concentratiekamp neuengamme; Het verhaal  van Jacobus Bentvelzen
Concentratiekamp Neuengamme
Dit is een verhaal over verzet, onderdrukking, en een zoektocht. Een zoektocht naar een verloren zoon… Welk verhaal zit er in dit oude sigarendoosje?.. Van wiens' tranen volgen wij het spoor?..Opgesloten in "KZ Hamburg-Neuengamme", doet Jacobus Bentvelzen verslag van zijn lot, en van het concentratiekamp Neuengamme; "met mij gaat het goed"…

KZ Lager Neuengamme
Kamp Neuengamme is op 13 december 1938 in gebruik genomen om arbeiders voor de fabrieken in te huisvesten. Om Sachsenhausen te ontlasten. In KZ Neuengamme werden allerlei mensen om wat voor reden dan ook, van Joden tot politieke gevangenen, vast gezet en te werk gesteld. Veel mensen uit Nederland die een rol hadden in het verzet werden ook in kamp Neuengamme gevangen gehouden. Kamp Neuengamme was geen vernietigingskamp, maar een werkkamp. Desondanks hebben vele mensen hier door uitputting, marteling en mishandeling een wreed einde van hun leven gevonden. In de brieven van Jacobus staat staat te lezen "met mij gaat het goed"… Probeer ook maar eens iets anders te schrijven in je brieven naar je dierbaren, alles werd "geöffnet", en als je ook maar iets over het kampleven loslaat staan daar natuurlijk stevige sancties op.
De zoektocht naar een zoon…
De zoektocht naar een zoon maken we van dichtbij mee. Een verhaal over verzet, en het lot van nabestaanden. Hoe ver moet iemand gaan om het lot van een zoon te achterhalen. Het Rode Kruis;  "we hebben het in onderzoek", "nog geen nieuws mevrouw". Wachten en schrijven, daar gaat dit verhaal over…
Fokker Verzet
Jacobus Bentvelzen, opgepakt op 2 augustus 1941 door de Grüne Polizei. Op verdenking van sabotage aan onderdelen in de Fokker fabriek, waar Jacobus werkzaam was als metaal arbeider. Opgepakt en gedeporteerd naar eerst Weteringschans, kamp Schoorl, toen naar Kamp Amersfoort en daarna op transport gezet naar concentratiekamp Neuengamme. De meerderheid van de brieven is in concentratiekamp Neuengamme geschreven.
 Op onderzoek
Ga Samen met wo2verzameling.nl op onderzoek en ontrafel deze vondst. Wo2verameling.nl zal elke komende week een opvolgend stuk posten en we zullen het hele verhaal boven gaan krijgen.
De "onderzoekstafel"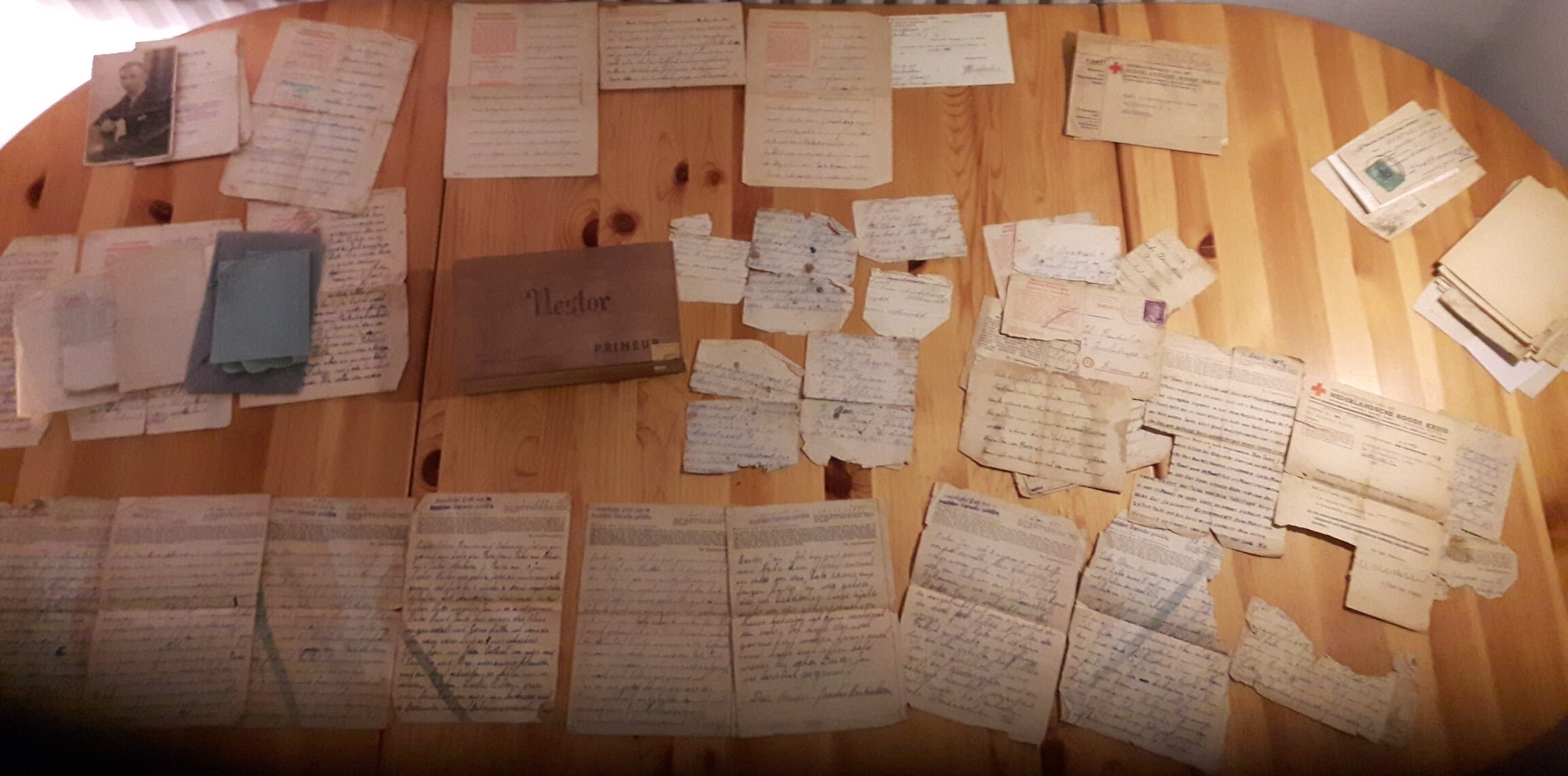 Alles op een rij…
Gesorteerd op datum, correspondentie, en "De zoektocht". Vanaf nu begint de zoektocht naar Jacobus Andries Bentvelzen… De eerste documenten uit het doosje… Wie was "Ko"?..
Jacobus Andries Bentvelzen
Jacobus Andries Bentvelzen is geboren op 24 november 1917 in Amsterdam.                                                   Jacobus kreeg net als veel kinderen in die tijd op 3 jarige leeftijd de pokkenvaccinatie.
Rapport klas 6
Jacobus had een vrij stabiel rapport in klas 6 in 1928 en1929. Geen enkele onvoldoende op te vinden. Een harde werker en een nette leerling lijkt Jacobus in het rapport. Jacobus ging naar de Roggeveenschool, de openbare lagere school in Amsterdam aan de Roggeveenstraat nummer 6.
Goede referentie
Jacobus heeft zijn werk goed gedaan bij de 'Constructie werkplaats ijzerbouw' en er zijn geenerlij aanmerkingen op hem te maken, staat er in het getuigschrift over Jacobus. Rede van het ontslag is "slapte" in het bedrijf. Dat Jacobus goed was in zijn werk blijkt wel, omdat hij later bij de fokker fabriek werd aangenomen.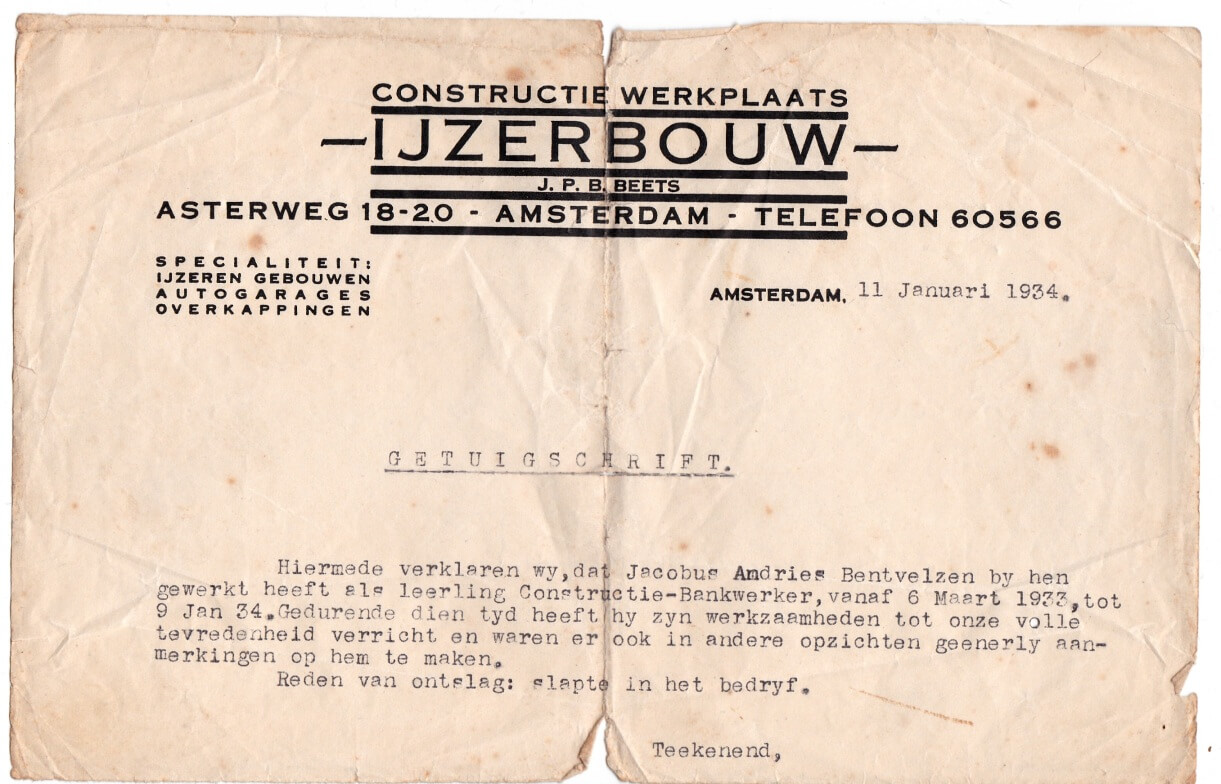 Een talent
Jacobus was een dus een gemiddelde leerling, met naar later bleek, ook een talent in ijzer handwerk. Deze gemiddelde Hollander steeg boven iedereen uit, toen Jacobus in de begin jaren van de tweede wereldoorlog zich inliet met het prille verzet.
Vakmanschap en verzet
De nabestaanden van Jacobus hebben nog altijd een perfect door Jacobus vervaardigd op schaal gemaakt vliegtuig waaruit de vakbekwaamheid van Jacobus blijkt. Ook de Duitse leiding van de fabriek zal dit niet zijn ontgaan. Voor een echte Hollandse arbeider als Jacobus, was het vast niet te verkroppen om de Duitse legerleiding van superieur vakwerk te voorzien.   Jacobus heeft blijkbaar het ;e;en en ander aan sabotage gepleegd in de Fokker vliegtuig fabriek, en die kwaliteitsdaling viel vast op bij "Die Grünen". Daaropvolgend zal Jacobus gearresteerd zijn is zo voor te stellen. De berichten en oproepen van net na de oorlog bevestigen dat het verzet van Jacobus tot zijn arrestatie geleid heeft.
De eerste brief uit kamp Amersfoort…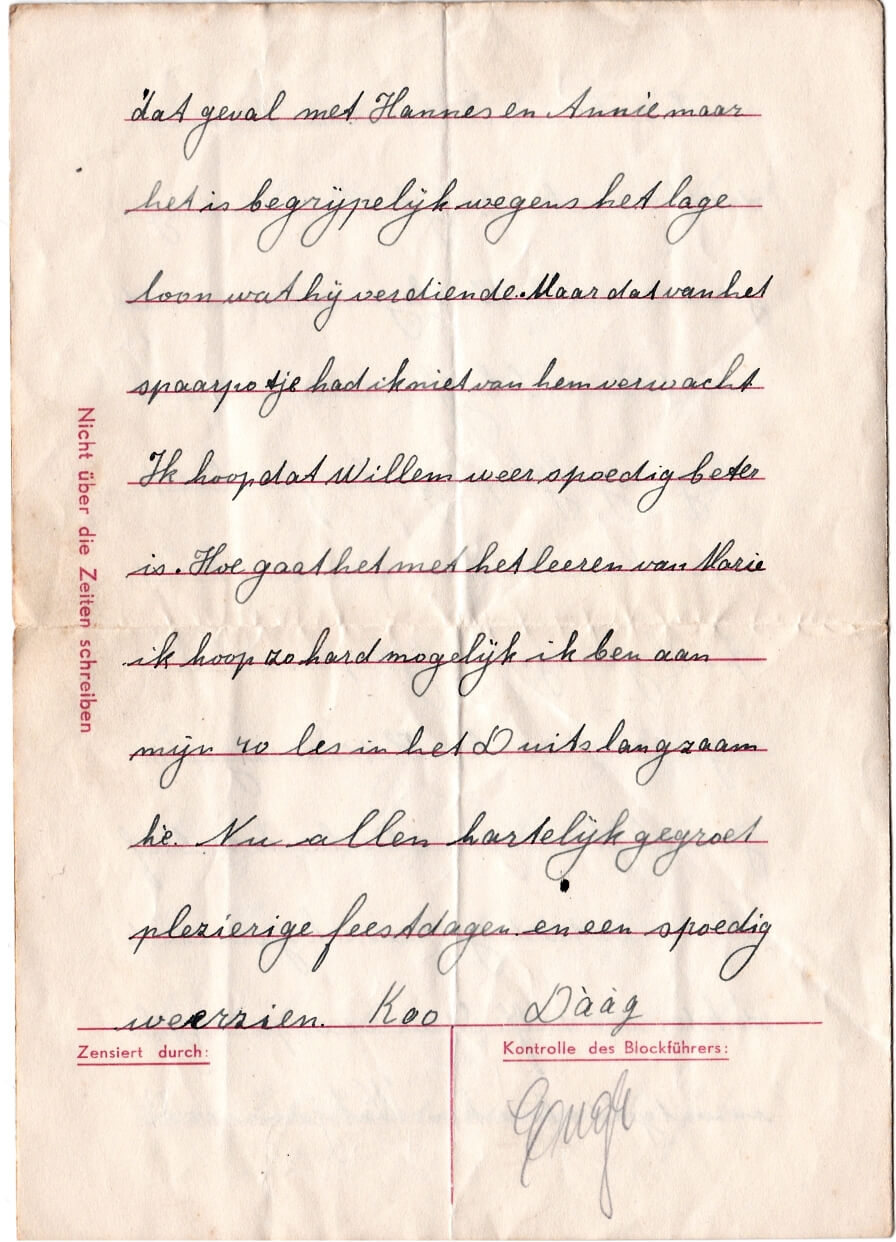 Mijn onschuld staat nu toch wel vast?…
De eerst gedateerde brief uit het doosje; 7 december 1941. Jacobus Bentvelzen. Block: 3 No.: 788.
Jacobus doet de groeten aan zijn ouders, broers en zusters, en bekenden. Verder verontschuldigd Jacobus zich voor zijn vorige "onverschillige kaart", door "de omstandigheden". De schrik zal er goed hebben ingezeten bij Jacobus, Waarschijnlijk is de eerste briefwisseling vanuit het "kamp Schoorl" in Noord-Holland. Helaas hebben we er in het doosje niets van terug gevonden. Jacobus schrijft dat; "zijn onschuld nu toch wel vast moet staan". Helaas gaat hij toch op transport naar KZ Neuengamme. De vader van Jacobus is zonder werk komen te zitten, toch vraagt Jacobus om een bijdrage van zijn gezin… Ook in het kamp is geld nodig om rond te komen, steun van dierbaren is broodnodig. Jacobus geeft ook aan dat ene "Jan Heerema" niet op de hoogte gesteld hoeft te worden van "dit geval". Hij zou er toch niets aan kunnen doen… Later in de brief vraagt Jacobus weer om geld, én postzegels. Contact met je dierbaren is veel waard als je leeft in een concentratiekamp…. "Doe de groetjes aan iedereen en een voorspoedig weerzien".
De volgende brief komt al uit KZ Neuengamme…
Nr 6875 Blok 5…
De eerste brief in het sigarendoosje uit concentratiekamp Neuengamme. Jacobus is nu door de Nazi's nummer 6875 genoemd. Hij verblijft nu in blok 5. Het is 2 maanden geleden dat Jacobus heeft kunnen schrijven. Jacobus is erg blij dat hij weer mag schrijven en mist duidelijk zijn naasten. "Laat de kinderen ook ééns iets schrijven", en "Gaarne ontvang ik om de veertien dagen een brief". "Vader mag als hij voorzichtig is mijn winterjas wel gebruiken".
Zwijgend…
Jacobus zwijgt over waar hij is geweest en hoe zijn leef omstandigheden zijn. De beperkte tekstruimte laat weinig ruimte over voor extra informatie, en de kampcensuur zal niet mild zijn geweest in het opleggen van straffen tegen gevangenen die wel iets loslieten over het leven in het kamp. De brief is gestempeld "Postsensur". Op de rand staat "Eisenach" geschreven. Later in de brieven blijkt dat Jacobus op het station in Eisenach voor het laatst in leven gezien is, op weg naar de 'Cap Arcona' te Lübeck. Het lijkt erop dat de censuur op de brieven werd toegepast op het station in Eisenbach, en dan waarschijnlijk niet in de verschillende "Neuengamme kampen" zelf.
Haftlingskarte van Jacobus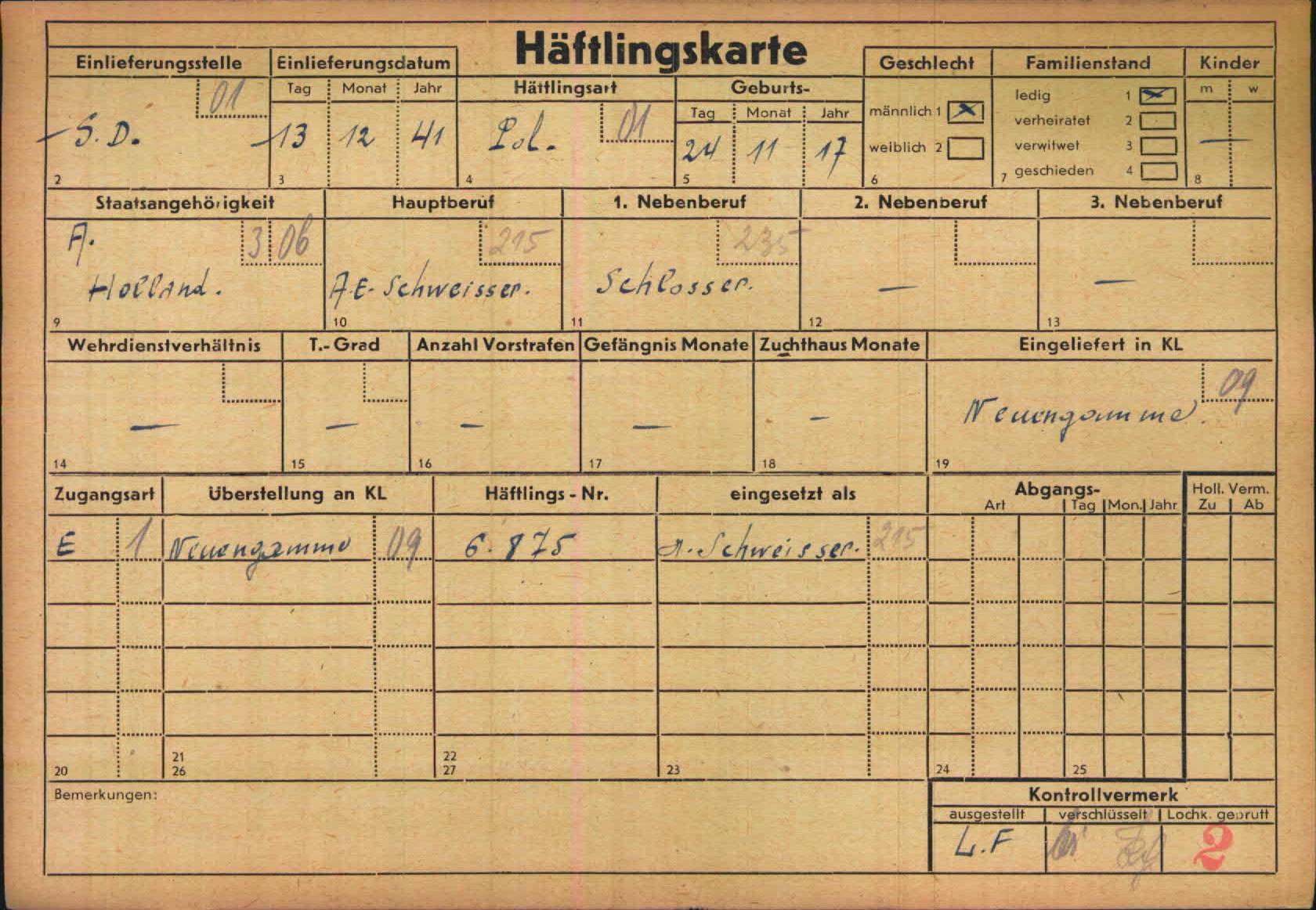 Dit is de originele haftlingskarte (gevangenenkaart) van Jacobus uit concentratiekamp Neuengamme. Deze kaart is uit het archief van het voormalig concentratiekamp en de kopie is mij toegezonden. We kunnen hier op zien dat Jacobus op 13 december 1941 in het kamp is aangekomen. En hij is om politieke redenen gevangen genomen. Hij kreeg haftlingsnummer 6.875. Hoofdberoep Schweisser, lasser, nevenberoep; schlosser, monteur, We zien op de kaart dat Jacobus als lasser is ingezet in KZ Neuengamme.
Auf Deutsch bitte…
Dat de censuur rondom de kampen toeneemt is wel te merken omdat de gevangenen in het Duits hun brieven moeten gaan schrijven. Jacobus had net een cursus Duitse taal achter de rug en moest onder dwang deze al snel in de praktijk brengen.
Schreibt Ihr mir bitte!
Jacobus schrijft nu onder dwang in het Duits… "Hiermitt lasse ich Euch wissen das ich gut gesund bin". Zoals altijd.. Geen blijk van het afzien… En Jacobus richt zich vooral op thuis, Jacobus vraagt of zijn familie hem zo vaak mogelijk wil schrijven. "Schreibt Ihr mir bitte wie es geht mit Lena".  Jacobus probeert vanuit zijn hachelijke positie zijn rol als oudere zoon toch op zich te nemen. Het was waarschijnlijk pure blijdschap als er brieven van zijn familie bij Jacobus aankwamen. Jacobus geeft ook aan hoe zijn familie in contact met hem kan blijven. "Bitte kein Deutsche Briefmarken ein zu Schliesen"…   Jacobus geeft aan dat hij als volgende aan de beurt is om te schrijven, maar het kan wel nog even duren…
Ik hoop thuis te zijn op mijn verjaardag…

Dit keer een kaart in plaats van een brief
Jacobus feliciteert zijn moeder met haar verjaardag en bedankt zijn familie voor het ontvangen geld, hij heeft het nuttig besteed zegt Jacobus zelf. Jacobus schrijft dat hij de sokken en pantoffels ontvangen heeft… Jacobus hoopt dat ze elkaar weer zien op zijn verjaardag. Gefrankeerd met een postzegel met een afebeelding van  Der Führer…
Pakket ontvangen!
Der weg uber das Rote Kreuz ist der Beste!
Jacobus  bedankt zijn familie in deze brief voor het pakket dat hij heeft ontvangen wanneer zijn moeder jarig was. Hij zal het niet snel vergeten. Het pakket is verstuurd via het rode kruis en Jacobus schrijft; "Der weg über das Rote Kreuz ist der Beste!". Verder schrijft Jacobus dat hij alles kan kopen waar hij verblijft. Rookwaar alleen niet…
Pakket ontvangen…Er is hoop!

Kriegsgevangenenpost Rode Kruis
Een ontvangstbewijs van het ontvangen pakket verzonden door het rode kruis. Met de handtekening van Jacobus Andries Bentvelzen. Via het rode kruis konden pakketten worden verzonden naar de kampen waar de gevangenen werden vastgehouden. Getekend 13 oktober 1942. J.A. Bentvelzen Nr. 6875 Block 5. Hamburg Neuengamme.
Brief naar de Befehlshaber Sicherheitspolizei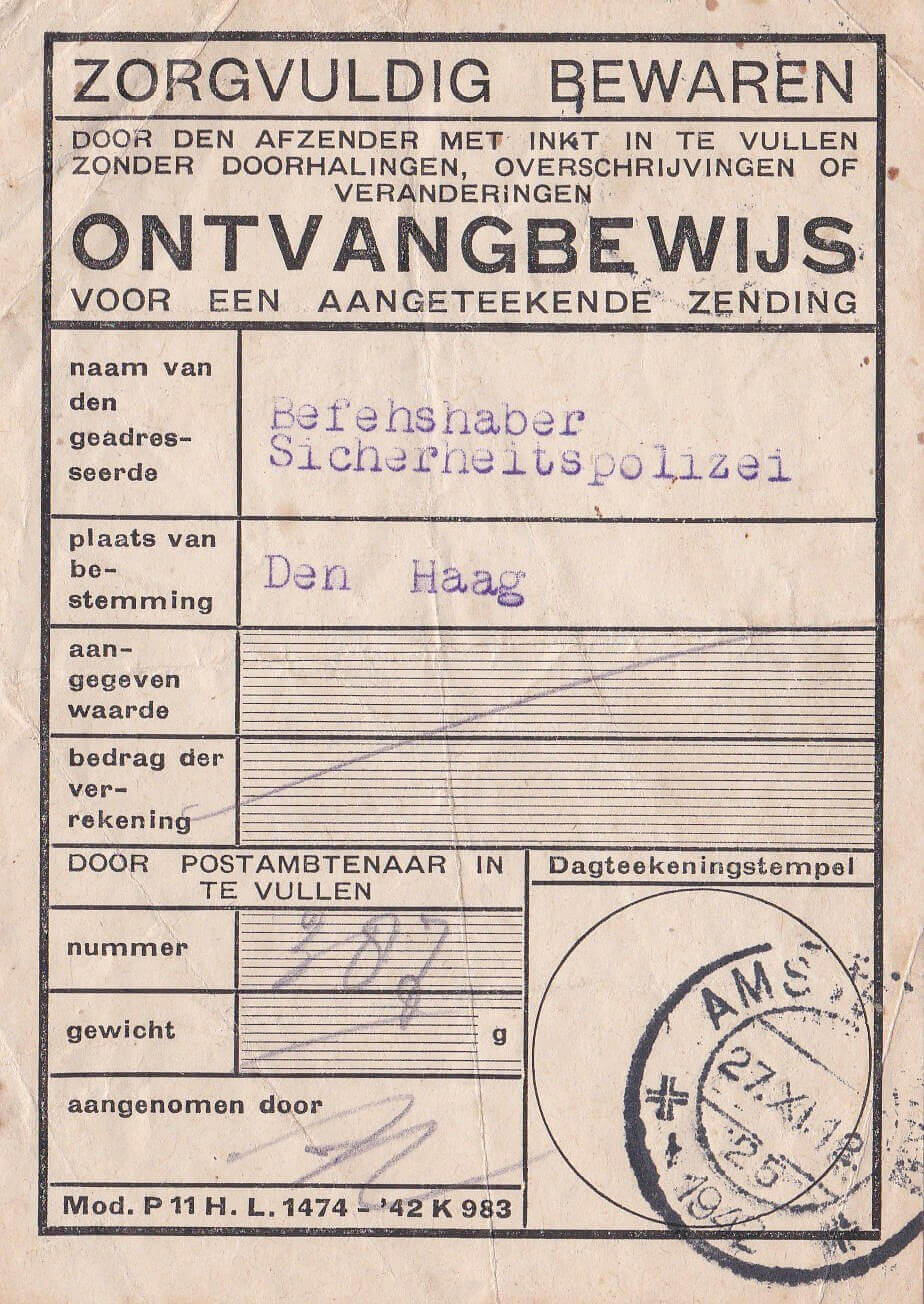 Zorgvuldig bewaren
Aan dit afschrift van een aangetekende brief te zien laat de moeder van Jacobus het er niet bij zitten, en heeft ze blijkbaar een brief geschreven aan de bevelshebber van de Sicherheitsdienst in Den Haag, vermoedelijk omtrent inlichtingen om haar zoon. De brief zit er niet bij, evenmin als een antwoord van de Sicherheitspolizei…
Bezoek mag ik niet ontvangen…
Jacobus schrijft…
Jacobus schrijft dat hij zijn brieven heeft ontvangen. Het moet duidelijk nagevraagd worden wanneer welke brieven zijn verzonden. Blijkbaar geldt de Nazi pünktlichkeit niet voor de gevangen van het Reich. Verder blijkt uit het schrijven van Jacobus dat zijn moeder ziek is. Hij wenst haar beterschap en dankt haar hartelijk voor de ontvangen pakketten. Ook heeft Jacobus vernomen dat; "Jan in Bremen fur Loyd arbeitet". Bezoek mag Jacobus niet ontvangen, wel brieven, geschreven in het Duits…
Bezorgd
Jacobus is duidelijk bezorgd over zijn zieke familie in Nederland. Hij vraagt veelvuldig hoe het met iedereen gaat en hoopt dat iedereen snel weer beter is. Jacobus is natuurlijk ook aangewezen op de hulp via de post van zijn familie. Dus een gezond thuisfront is ook voor Jacobus letterlijk van levensbelang. Jacobus is van begin 1941 tot mei 1945 geinterneerd geweest in Duitsland. Een extreem lange tijd. Jacobus heeft al die tijd enorm veel steun van zijn familie mogen ontvangen.
Pakete können ab sofort empfangen werden!
Weer wat pakketten ontvangen!
Jacobus schrijft dat hij gelukkig weer pakketten heeft ontvangen. Maar zijn brieven komen steeds op het oude blok aan, want Jacobus is  ondergebracht in een ander blok. Jacobus is van blok 5 naar blok 16 gegaan. Ik weet nog niet waarom dat is geweest. (Antwoord op deze vraag; 'U vraagt zich af waarom deze heer van het ene naar het andere blok is gegaan. Eind 1943, begin 1944, is er een grote verandering gekomen in het kamp. Rond deze tijd is begonnen met het bouwen van twee grote gebouwen van beton en steen. Deze gebouwen zorgde ervoor dat de nummering van de barakken veranderde. Het gebouw wat zich nu aan de straatkant bevind kreeg de nummers 1 tot en met 4. De barakken die zich naast dit gebouw bevonden begonnen met de nummers 5 tot en met 8. In deze gebouwen bevind zich tegenwoordig de tentoonstelling').
Hakenkruis
Er is ook iets vreemds aan deze brief… Op de voorkant direct na de aanhef staat een klein, onwennig getekend hakenkruis. Zeker met oude inkt en een kroontjespen gezet. Het is mij een raadsel waarom dit nazi symbol op de brief staat. De moeder van Jacobus bewaarde zijn brieven zorgvuldig en het is dus niet aannemelijk dat het er achteraf op terecht is gekomen.  Wie weet een manier om te proberen om een brief met iets meer prioriteit te laten verzenden?..
Een brief aan Koo…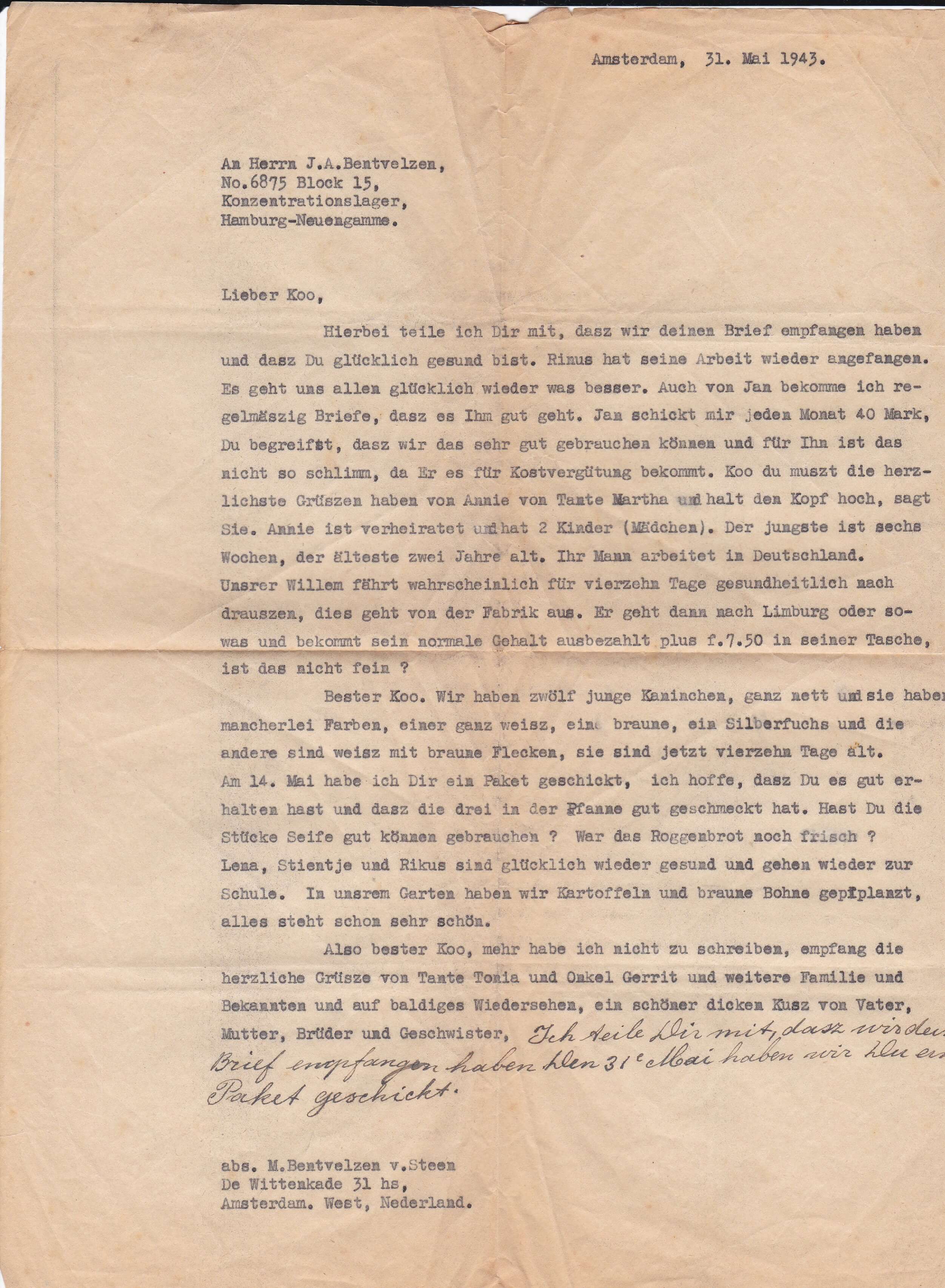 Een brief verstuurd aan Koo van zijn moeder dagtekening 31-5-1943.
Verzoek een inlichting omtrent Bentvelzen
Verzoek om meer inlichtingen te verkrijgen over Jacobus.
Brief uit Neuengamme 7-7-1943
Brief van Jacobus 7-7-1943
Brief uit Neuengamme 15-8-1943
Brief van Jacobus 15-8-1943
Brief aan Koo 17-08-1943; Noch keine Nachrichten von dir erhalten….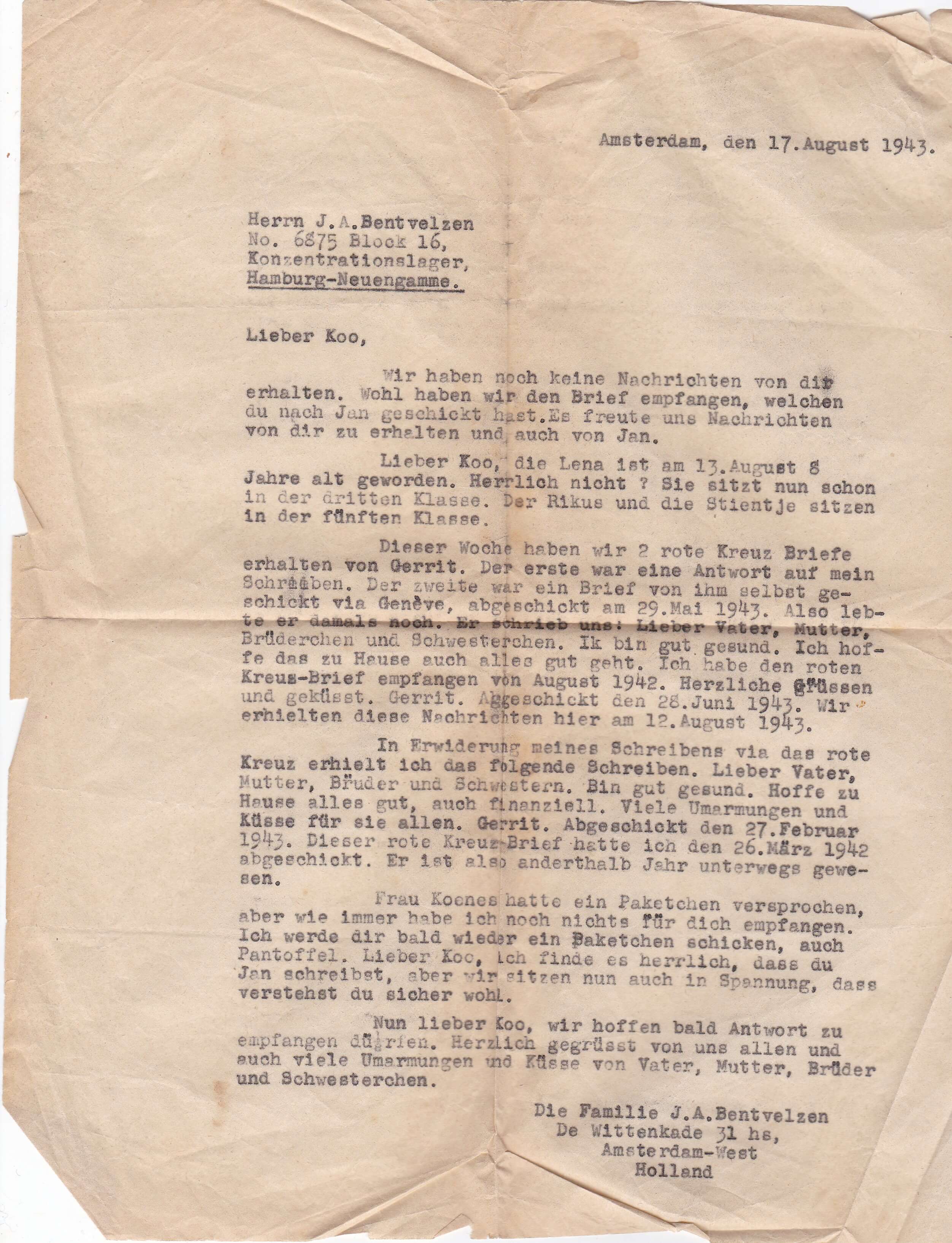 Een brief aan Jacobus van zijn familie.
Lieber Koo, we hebben je kaarten ontvangen!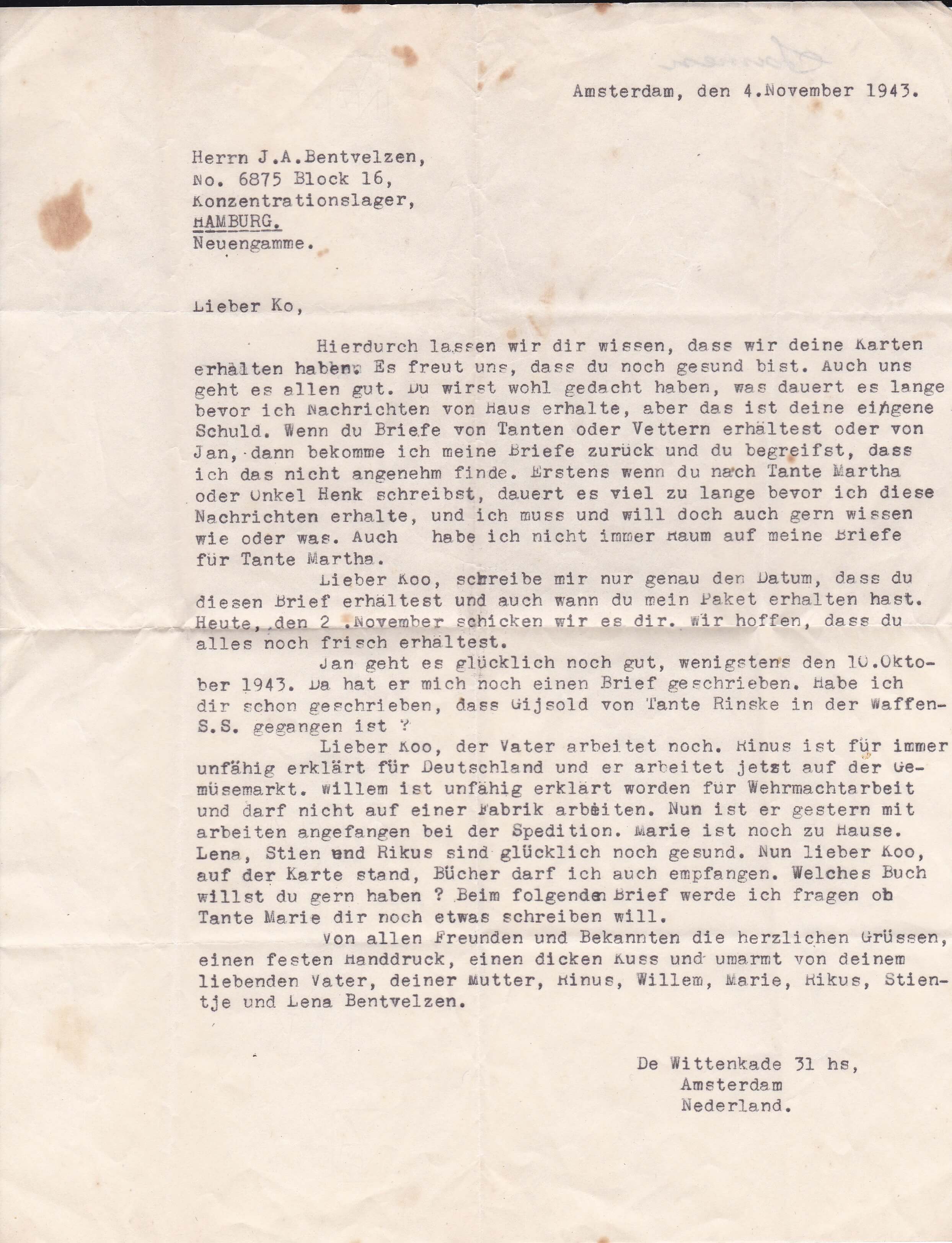 Een brief aan Jacobus van zijn familie.
Lieber Koo, van harte gefeliciteerd met je verjaardag…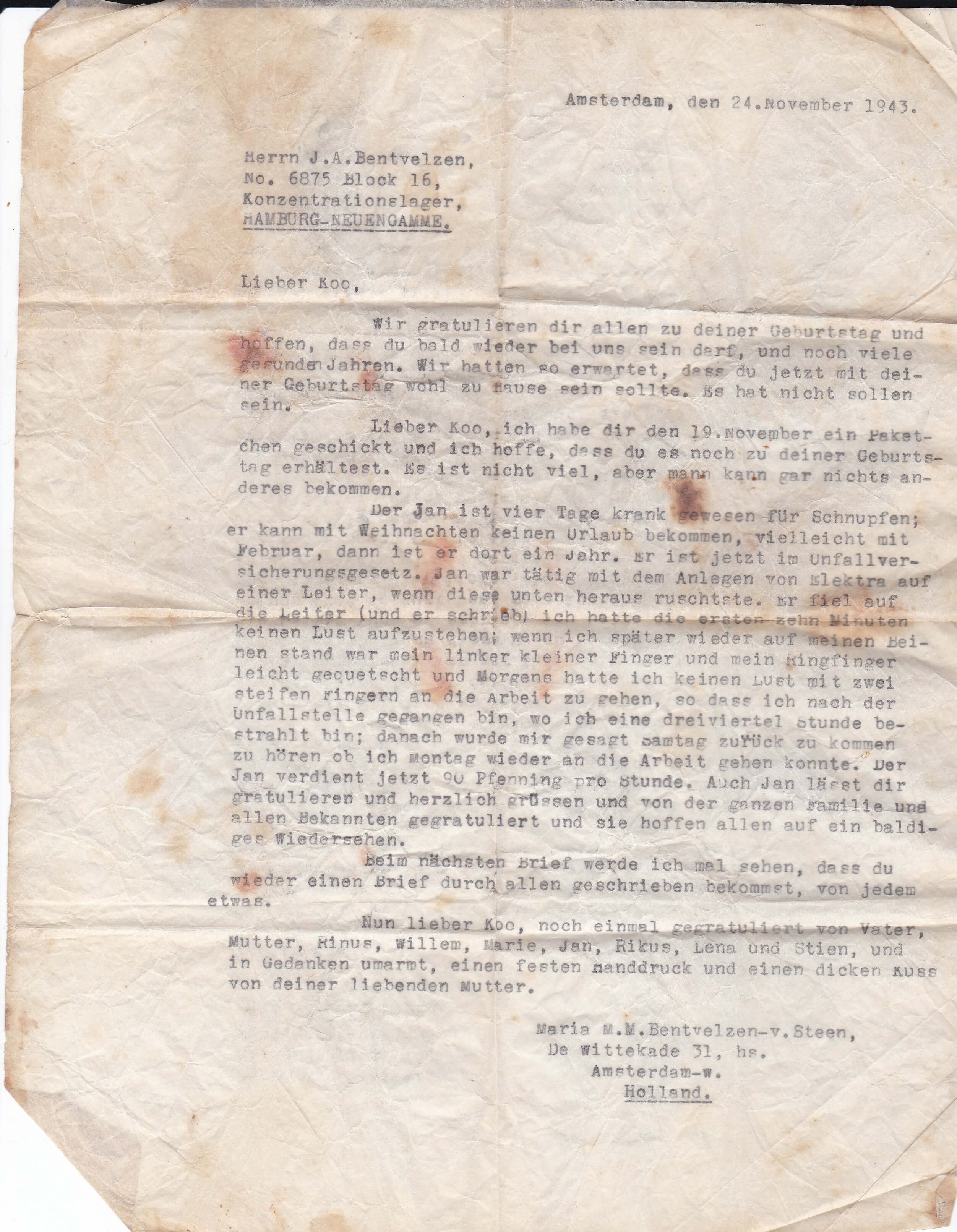 Een brief van thuis… Gefeliciteerd met je verjaardag, we missen je zo…
1 januari 1944
Pakketje ontvangen…
16 januari 1944, Ich bin gesund…
Ich bin gesund und habe dein paket empfangen…
2 april 1944 
Ineens een brief in blokletters geschreven…
28 mei 1944 Rode Kruis pakket ontvangen
Gelukkig twee pakketten ontvangen, één van het thuisfront, en één van het Rode Kruis.
25 juni 1944 'Suker Abrikozen'
Het rode Kruispakket met 'suker abrikozen' erin ontvangen. 'Lieber Vater, ik heb al 4 weken niks meer van je gehoord. Is Amsterdam Westhoek nog intact?..
30 juli 1944
Moeder, wil je de moeder van Wim condoleren met het verlies van haar zoon in Berlijn…
17 september 1944
Beste jan, ik ben gezond…
5 november 1944
Pakket van het rode kruis ontvangen… Ik schrijf snel weer!
19 november 1944
Beste Jan, hoe gaat het ? Ik heb al vier weken geen bericht meer ontvangen…
1 december 1944
Beste Jan, Ik heb gehoord dat je gebombardeerd bent, wat een geluk dat je nog leeft!
Het Nederlandsche Roode Kruis
Brieven van Jacobes van na december 1944 zitten er niet meer bij. De volgende stukken gaan vooral over de zoektocht naar Ko door zijn moeder die elke instantie aanschrijft en veel teleurstellingen krijgt te verduren.
Helaas, nog geen gegevens omtrent Jacobus A. Bentvelzen….
Geen resultaat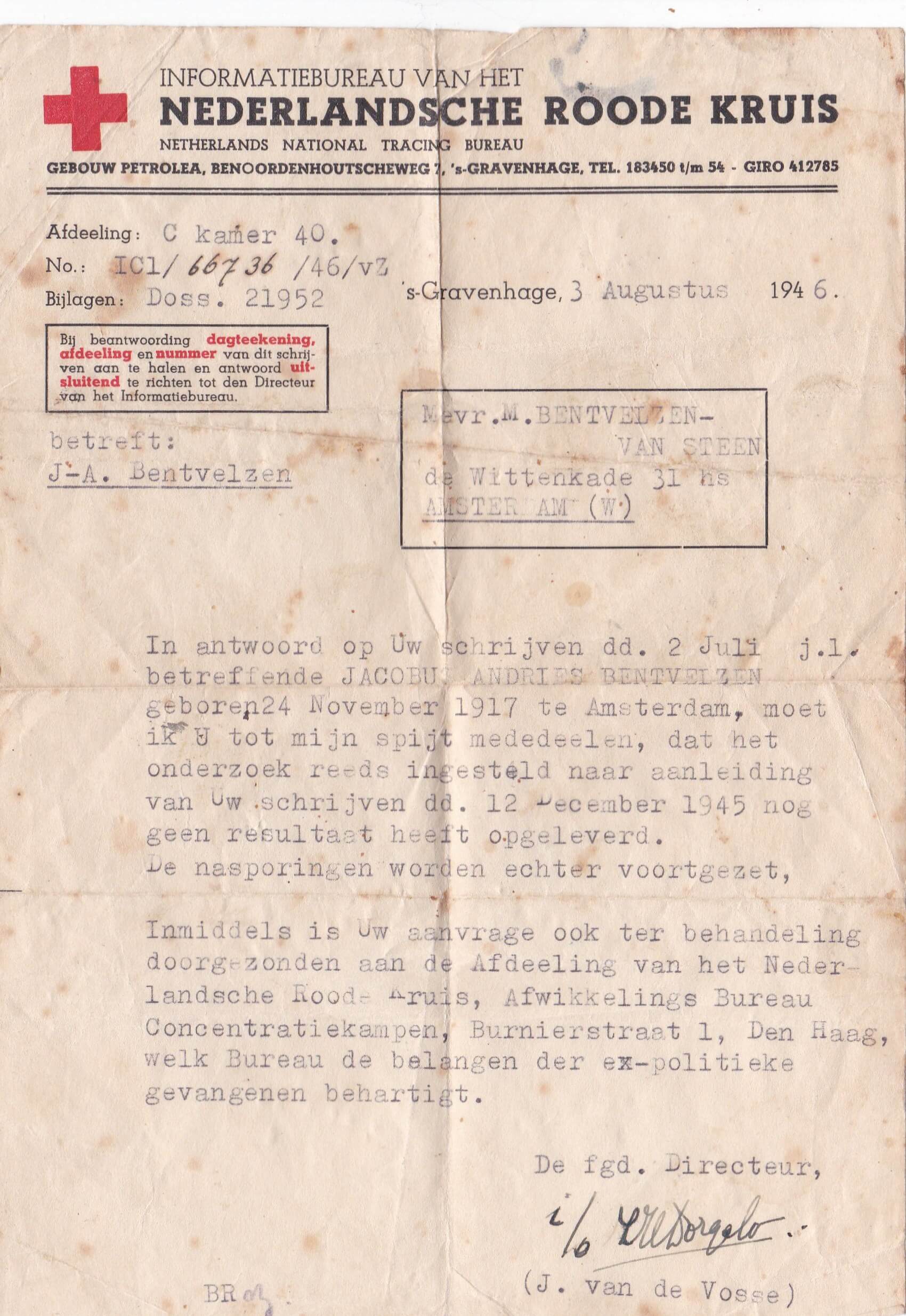 Het onderzoek heeft nog geen resultaten opgeleverd.
Verzoek in behandeling genomen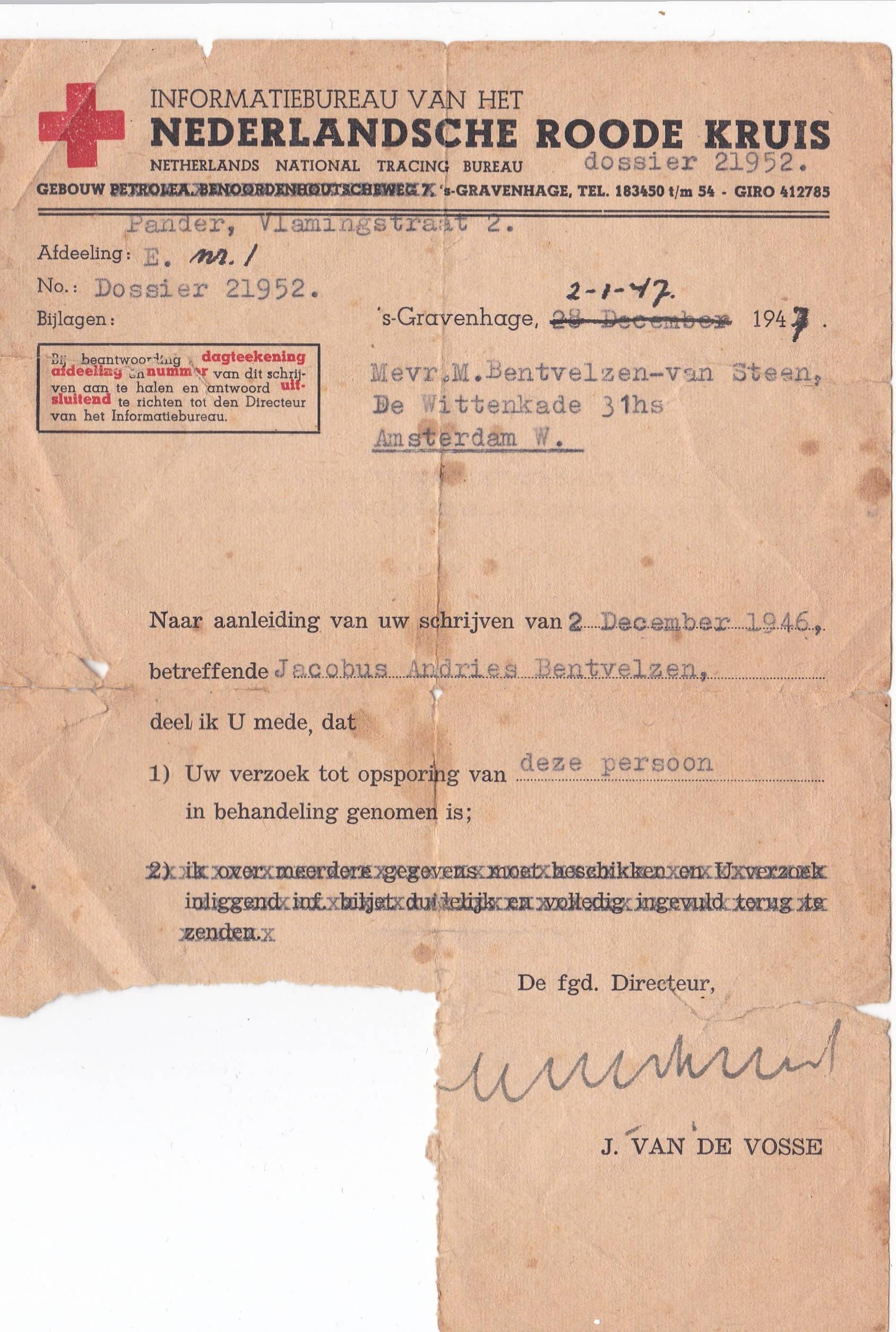 Verzoek tot opsporing is in behandeling genomen.
Het onderzoek zal worden voortgezet
we zullen een oproep doen in het blad 'Appél' en zijn naam laten omroepen op Hilversum 3.
Bedankt voor de postzegels…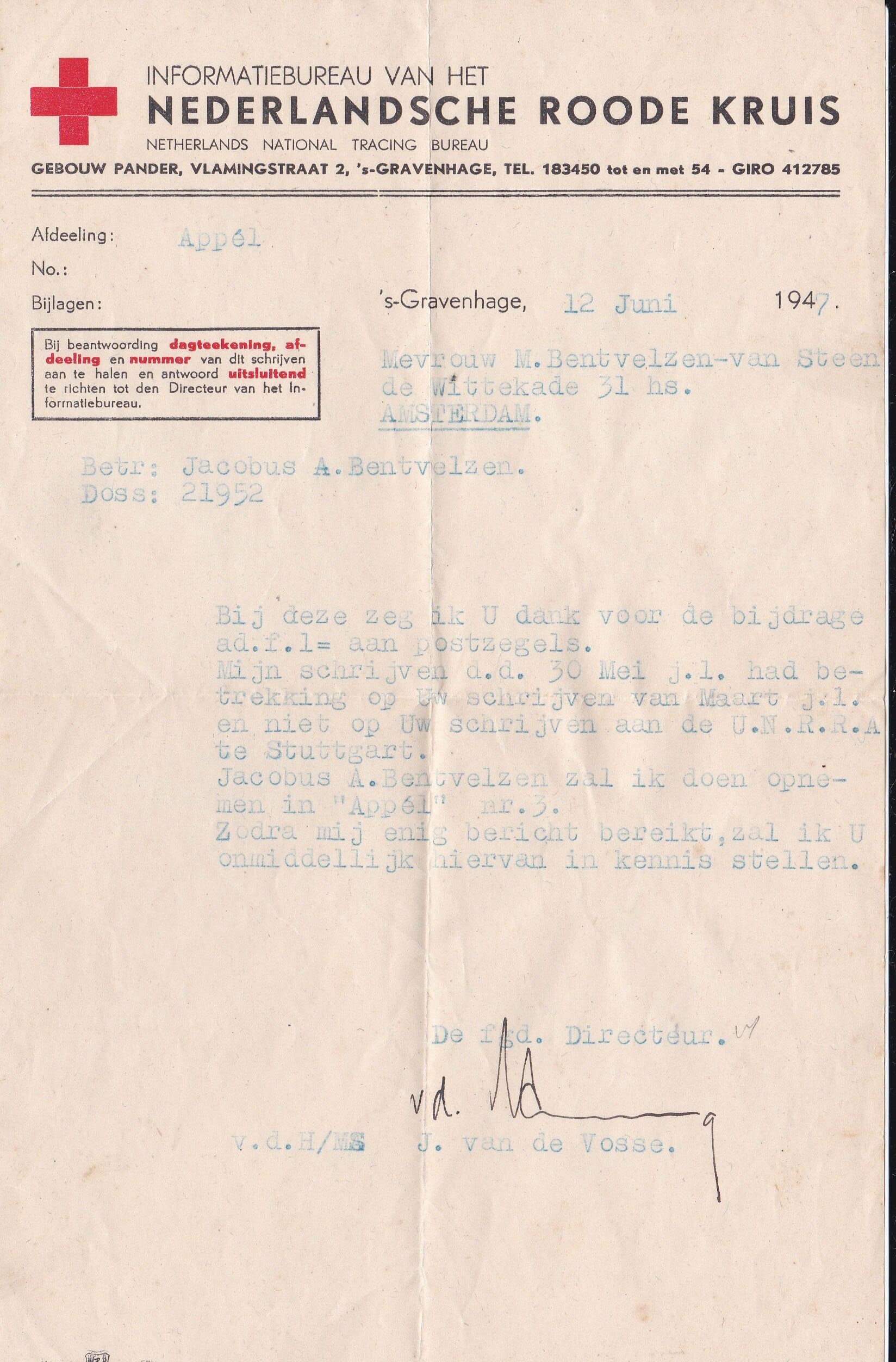 Jacobus zal verschijnen in 'Appél' nummer 3.
We hebben het wel erg druk….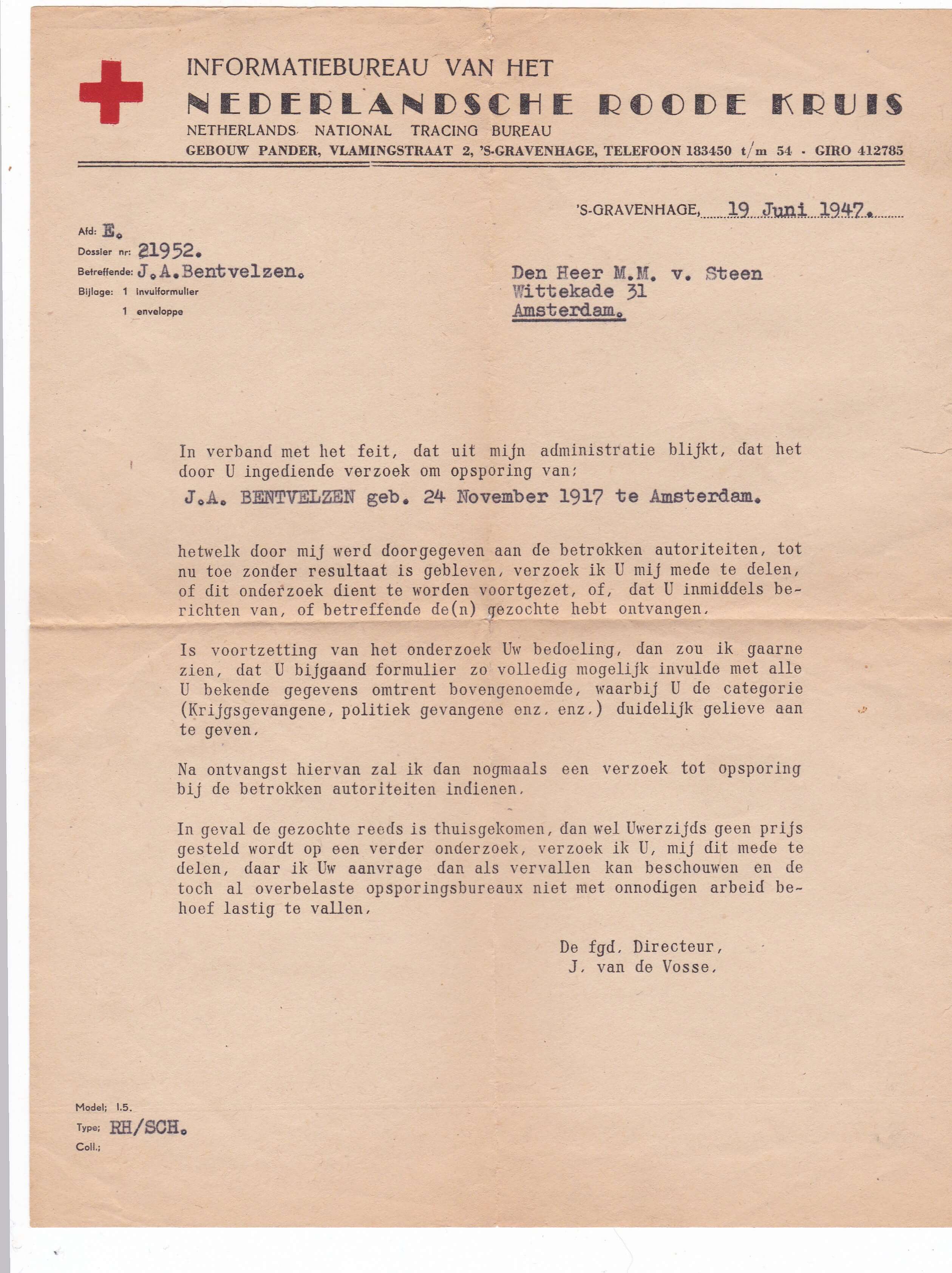 Een nogal ongevoelige standaard brief van het rode kruis of je familielid toch niet al thuis is gekomen. Want ja… We hebben het best heel druk mevrouw…
Afwikkelingsbureau concentratiekampen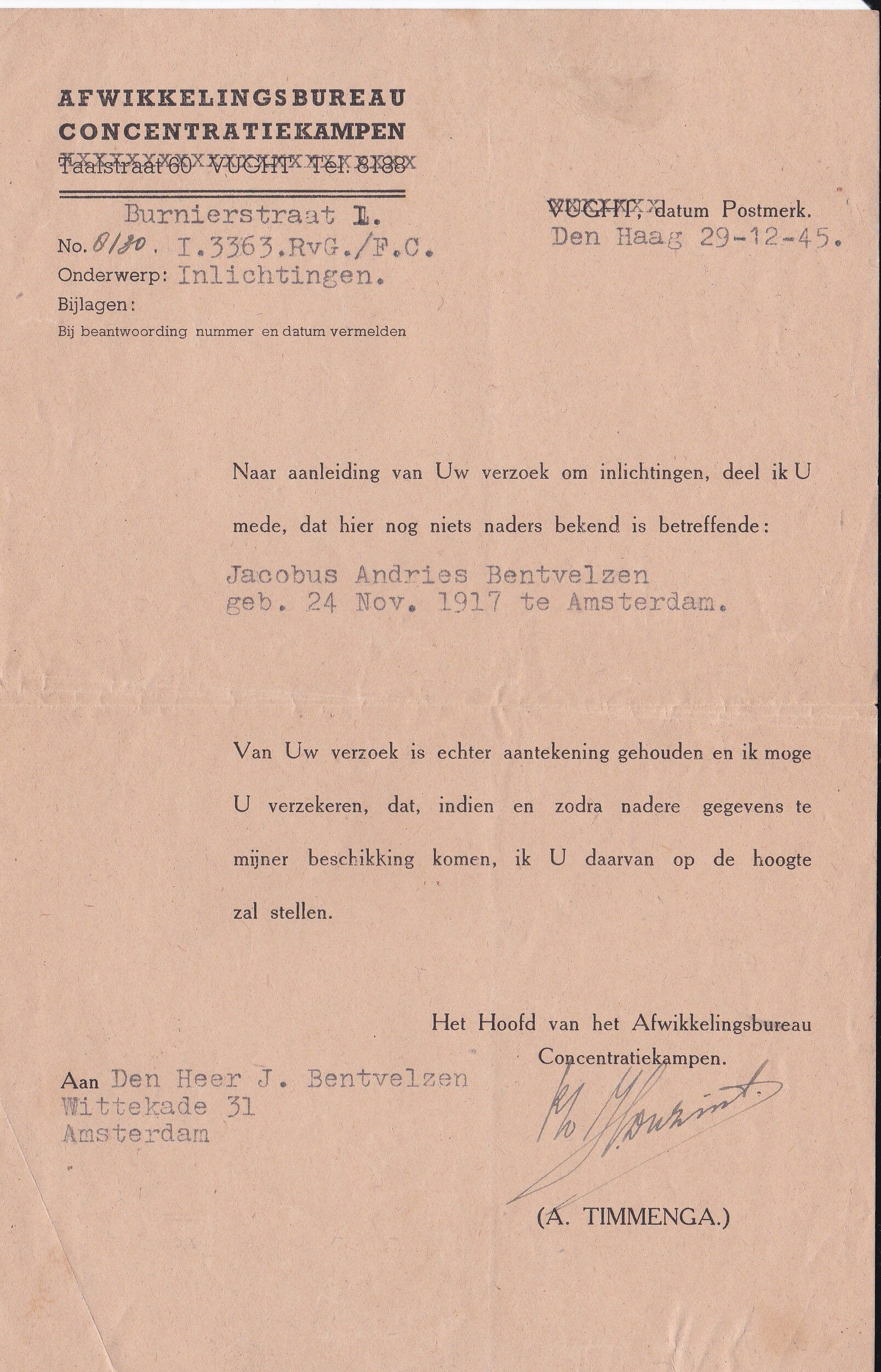 Nog niets nader bekend over Jacobus…
Bureau voor informatie en opsporing vermiste ex- politieke gevangenen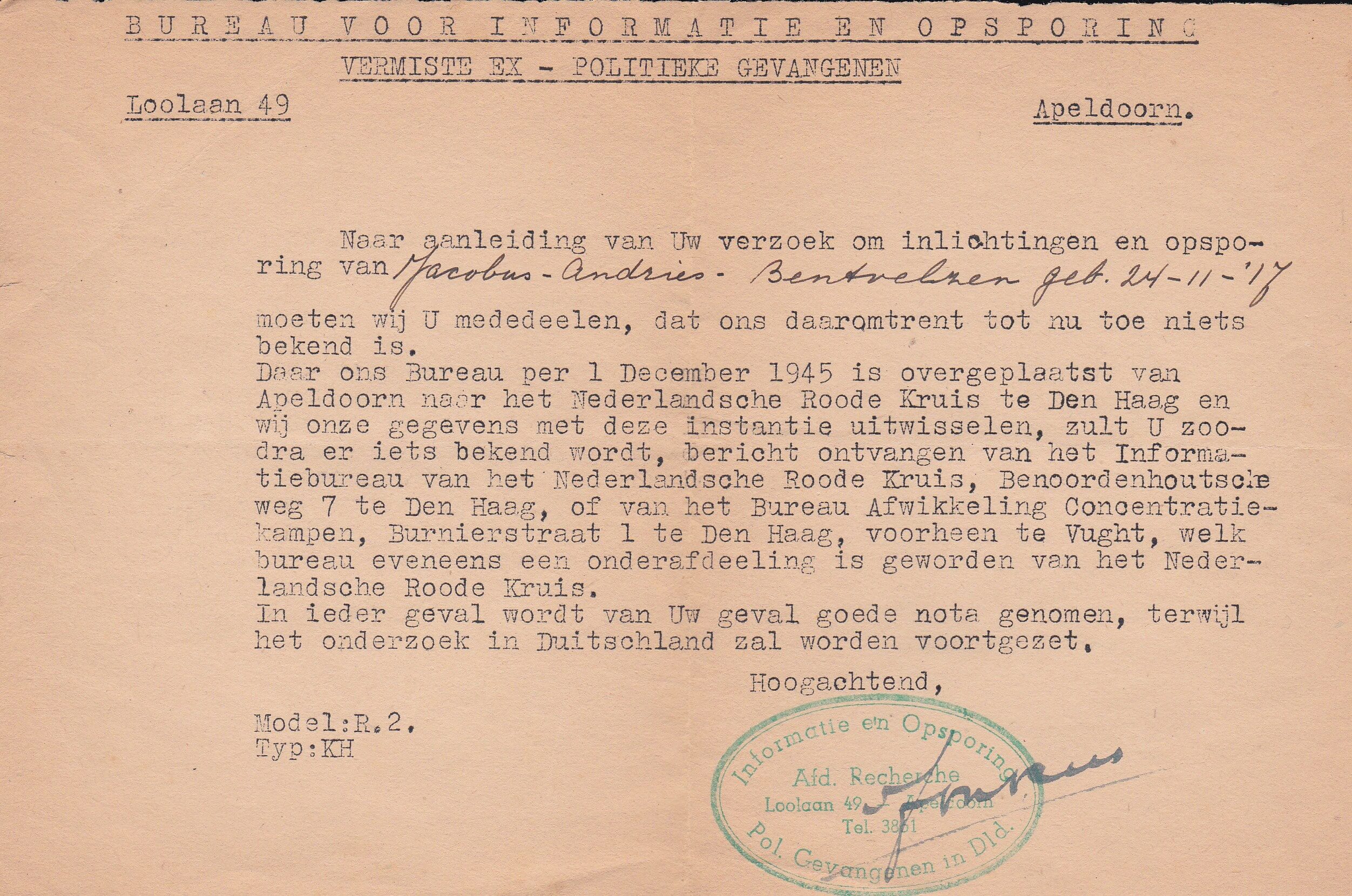 Het onderzoek zal in Duitsland worden voortgezet…
Zelfs de Soviet unie kan niet helpen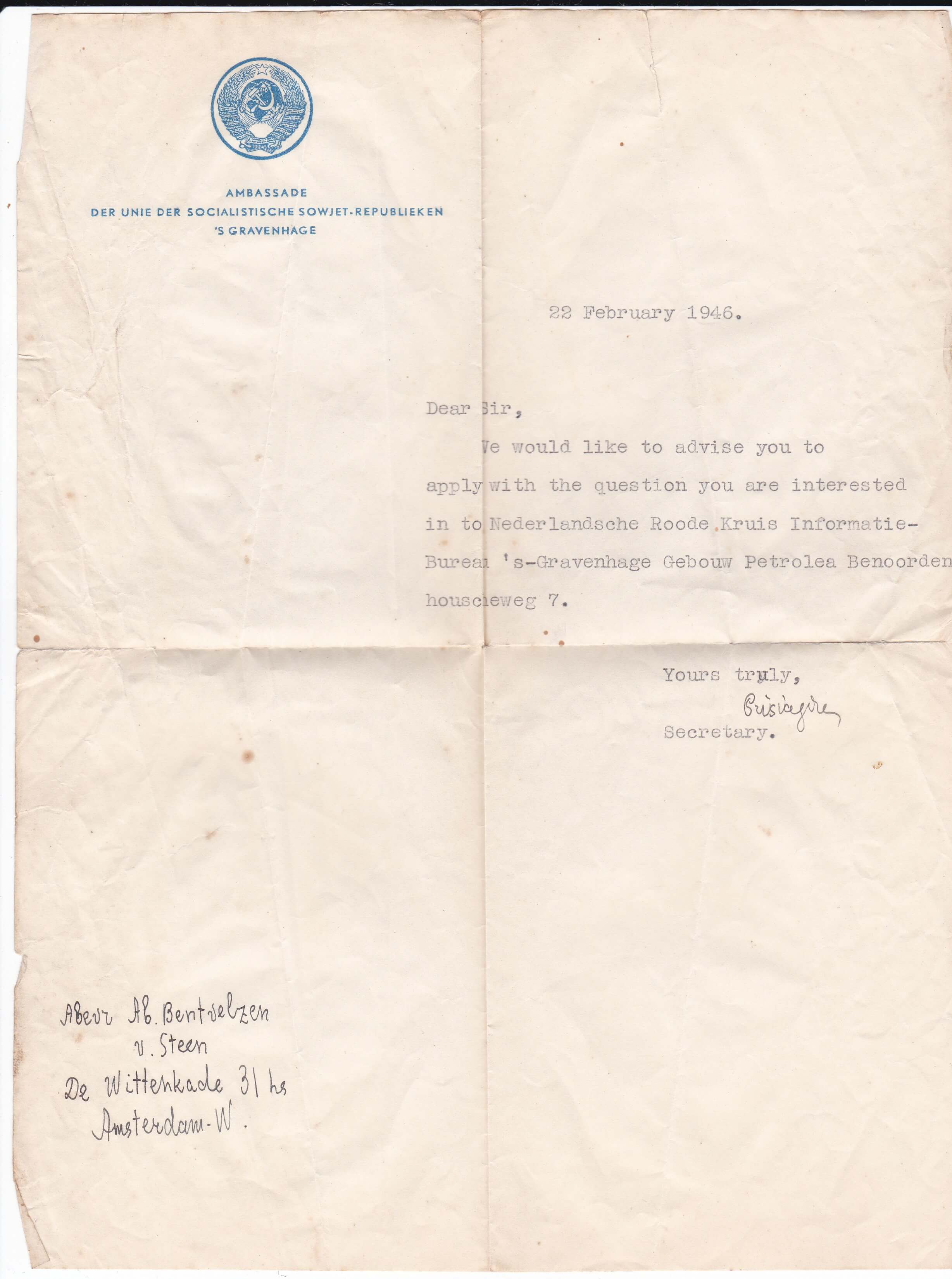 Probeert u het bij het Roode Kruis…
Een brief als een mokerslag…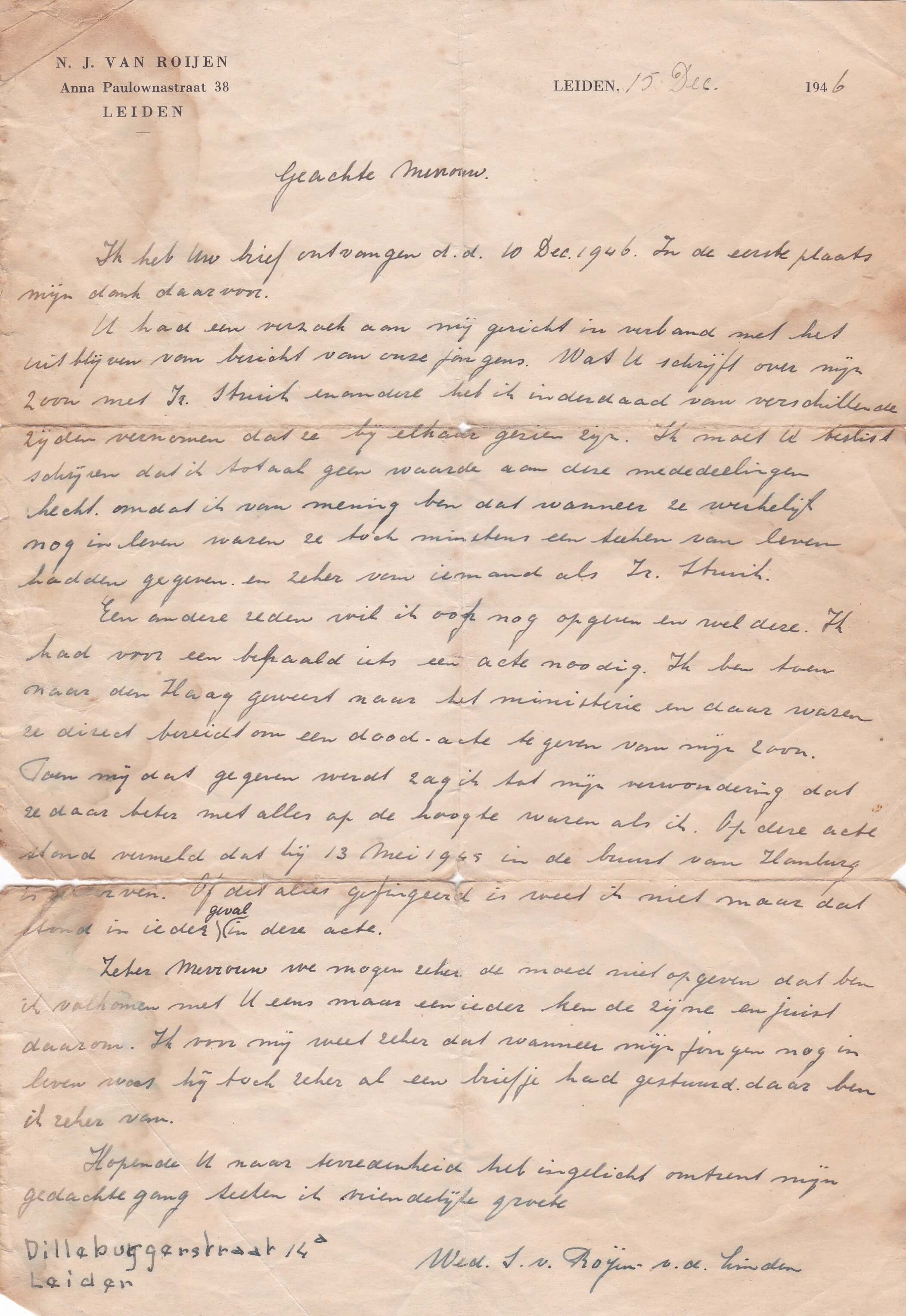 De moeder van Jacobus heeft een brief ontvangen van de moeder van één van Jacobus zijn mede gevangenen. Deze vrouw is naar Den Haag afgereisd om een verklaring van overlijden te verkrijgen voor haar zoon. Op het ministerie waren ze volgens haar beter op de hoogte dan zij zelf. Want op de akte stond een plaats van overlijden vermeld…
Aanvraag voor financiële hulp Stichting 40-45
Een aanvraag voor financiële ondersteuning aan de Stichting 40-45. In deze brief verteld de moeder van Jacobus wat zijn actie's waren tijdens de oorlog. En waar hij voor is opgepakt door de S.D.; 'Pamfletten verspreiden voor de Communistische partij Nederland. Door de 'Groene' van de Fokker fabriek gehaald en gearresteerd. Van de Weteringschans in cel T-2-18. Op 4 oktober 1941 naar Schoorl vervoerd, kort daarna naar kamp Amersfoort. Block 3 nummer 788. Na ca. een half jaar kreeg ze geen bericht meer. 'Mijn zoon was naar Neuengamme getransporteerd'. Waarna hij 3 1/2 jaar in het concentratiekamp heeft door gebracht. Nummer 6875, Block 5, 13, 15, 16 en 28. Volgens medegevangene Jan Blok is Jacobus op 27 april 1945 gezond op transport gegaan op station Eisenach in Thuringen. Het rode kruis laat weten hem nog niet gevonden te hebben.'
Medeleven van het Rijksinstituut voor Oorlogsdocumentatie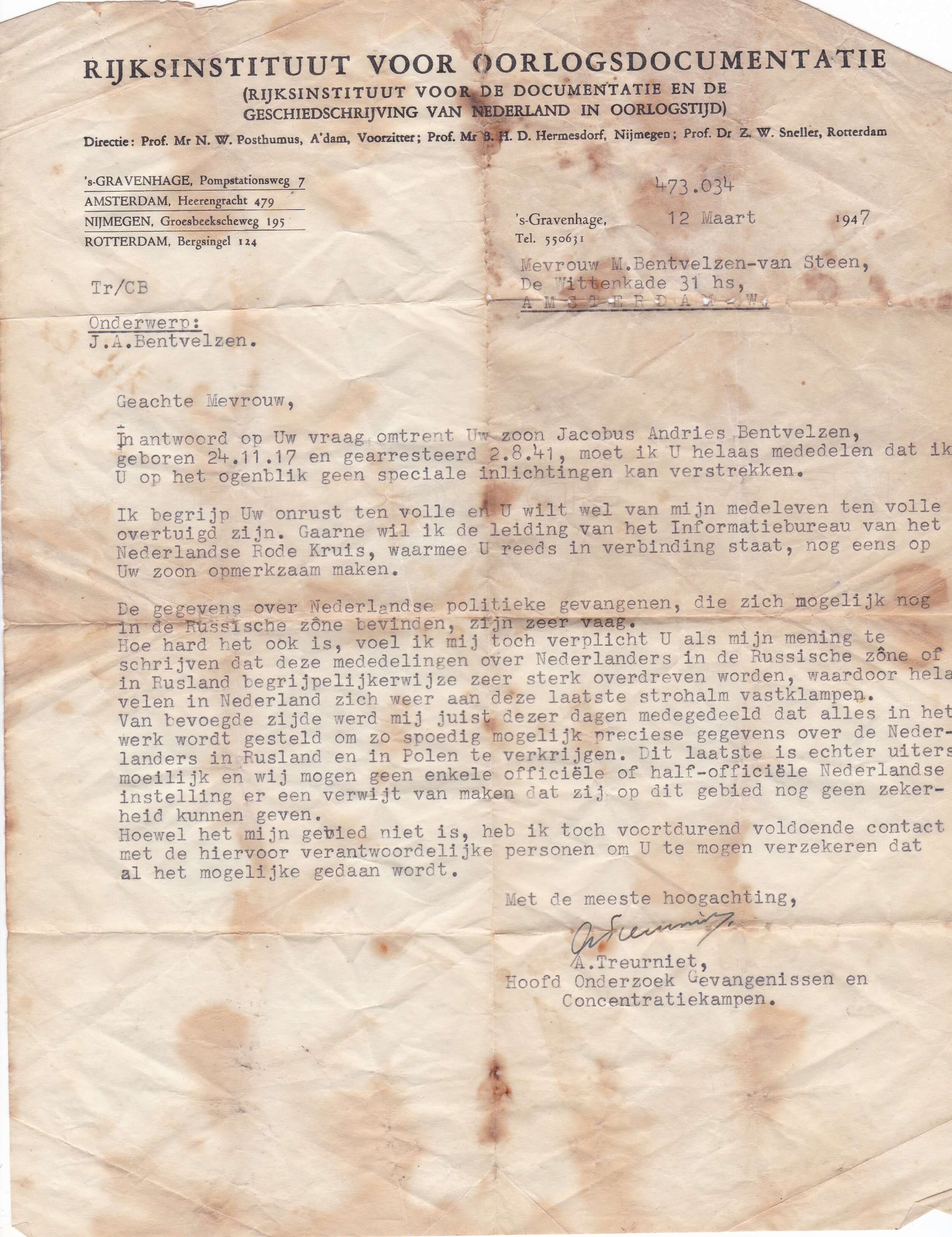 Een eerlijke en meelevende brief van het RIOD. Voorzichtig geeft de schrijver aan dat er niet veel hoop moet worden gevestigd op een overleven in de Russische zone.
Brief aan de UNRRA, United Nations Relief and Rehabilitation Administration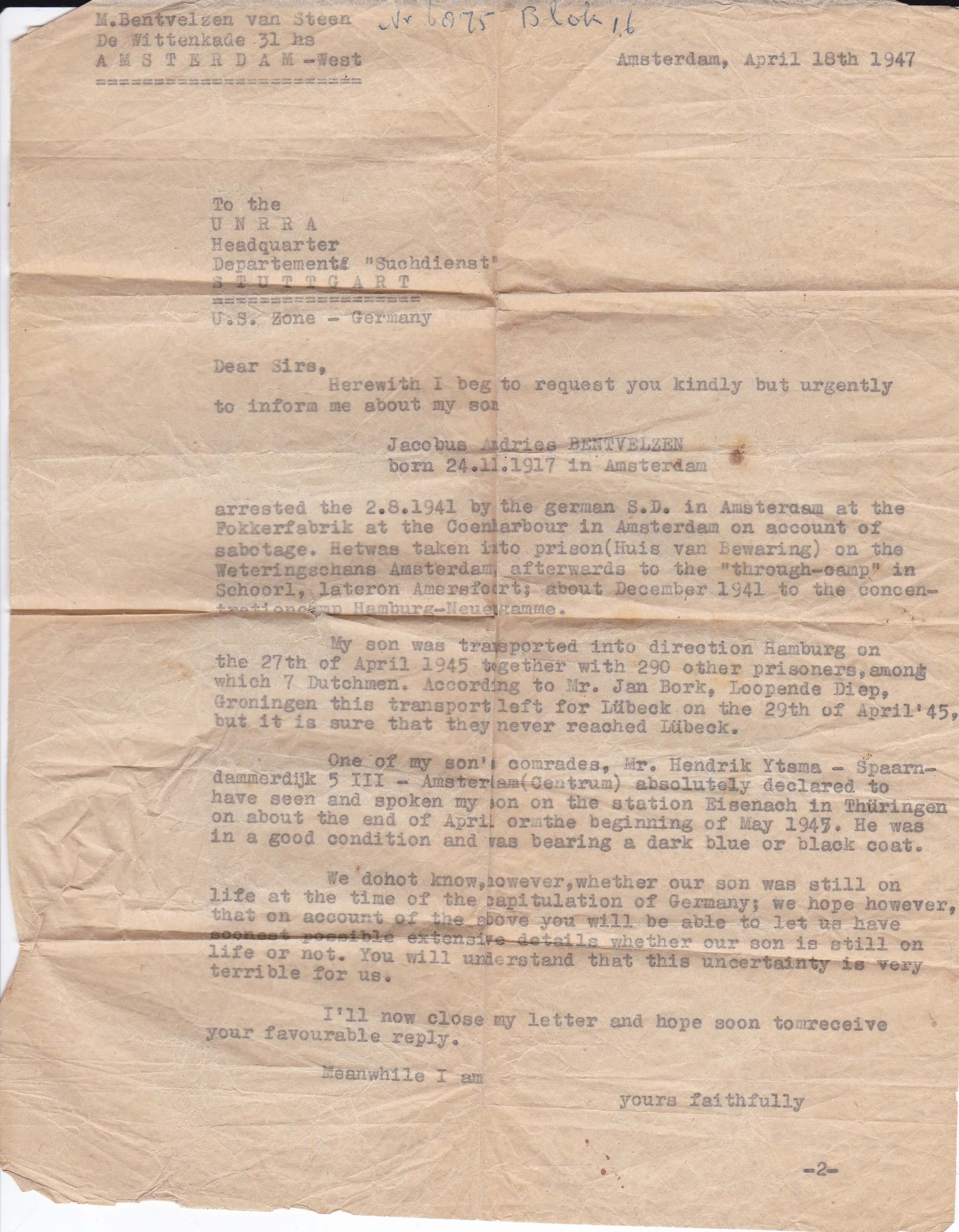 Een brief van de moeder van Jacobus aan de UNRRA, United Nations Relief and Rehabilitation Administration.
RIOD; Blijf er niet voor thuis…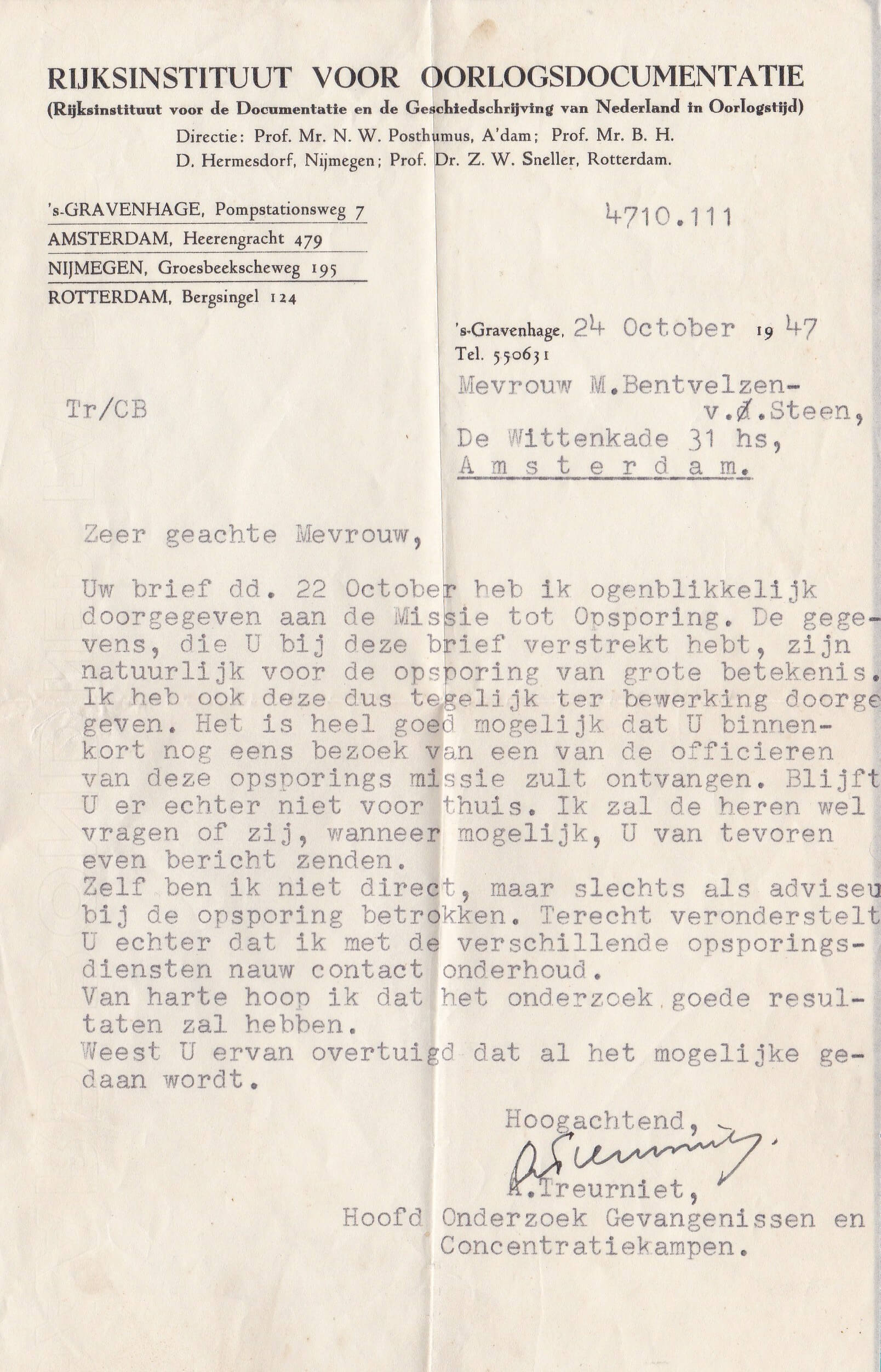 een brief van het RIOD. Vol medeleven, en we sturen misschien een officier van de onderzoeksmissie langs. Maar blijf er niet voor thuis…
Zonder een spoor...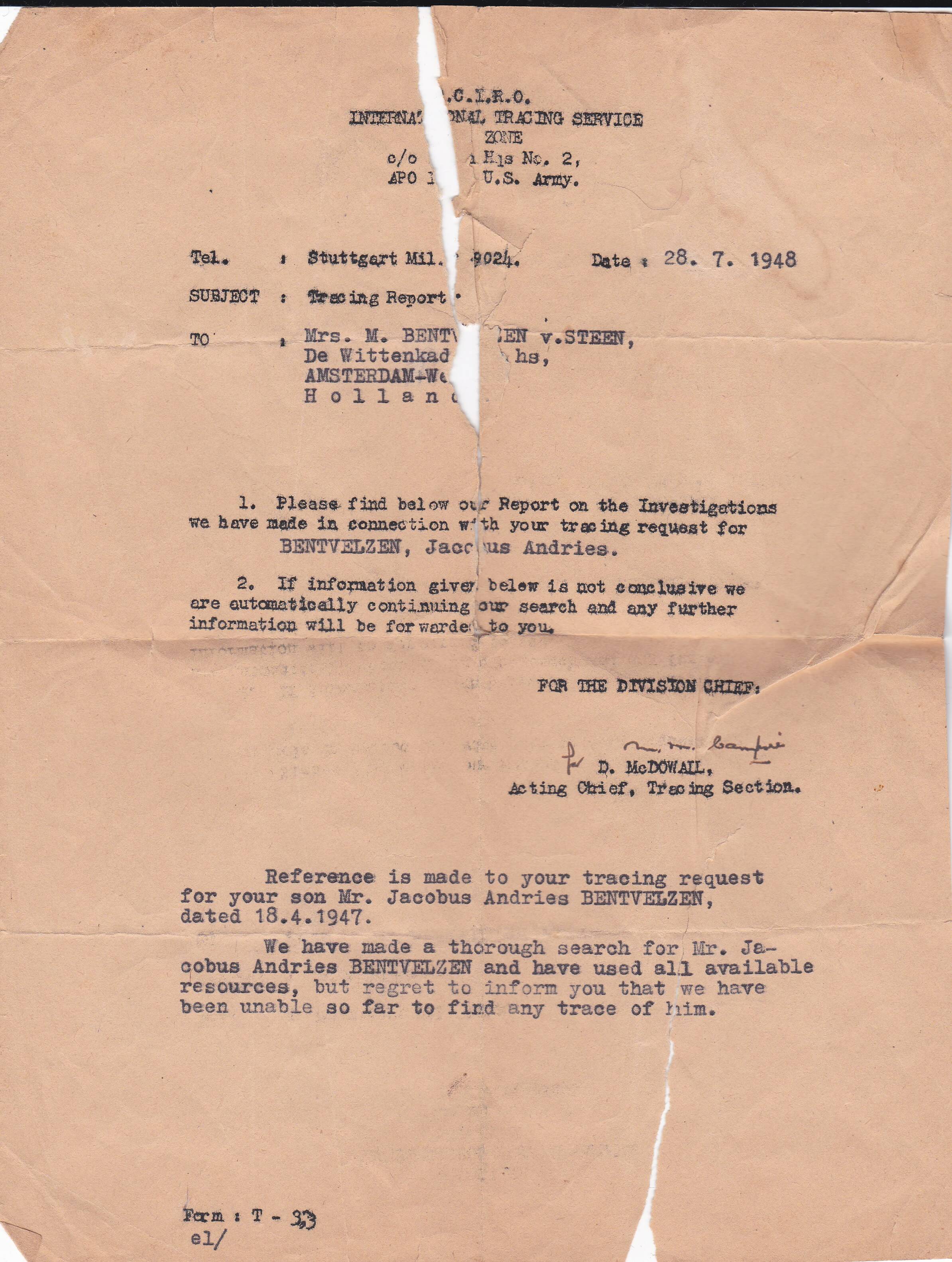 1948 alweer… dit is het tracing report van Jacobus van het International Tracing Service. We hebben alle mogelijke bronnen benut. Maar helaas. Geen spoor van gevonden van uw geliefde familielid. Weer een bittere pil te verwerken voor de familie van Jacobus.
Nederlandse missie tot opsporing van vermiste personen uit de bezettingstijd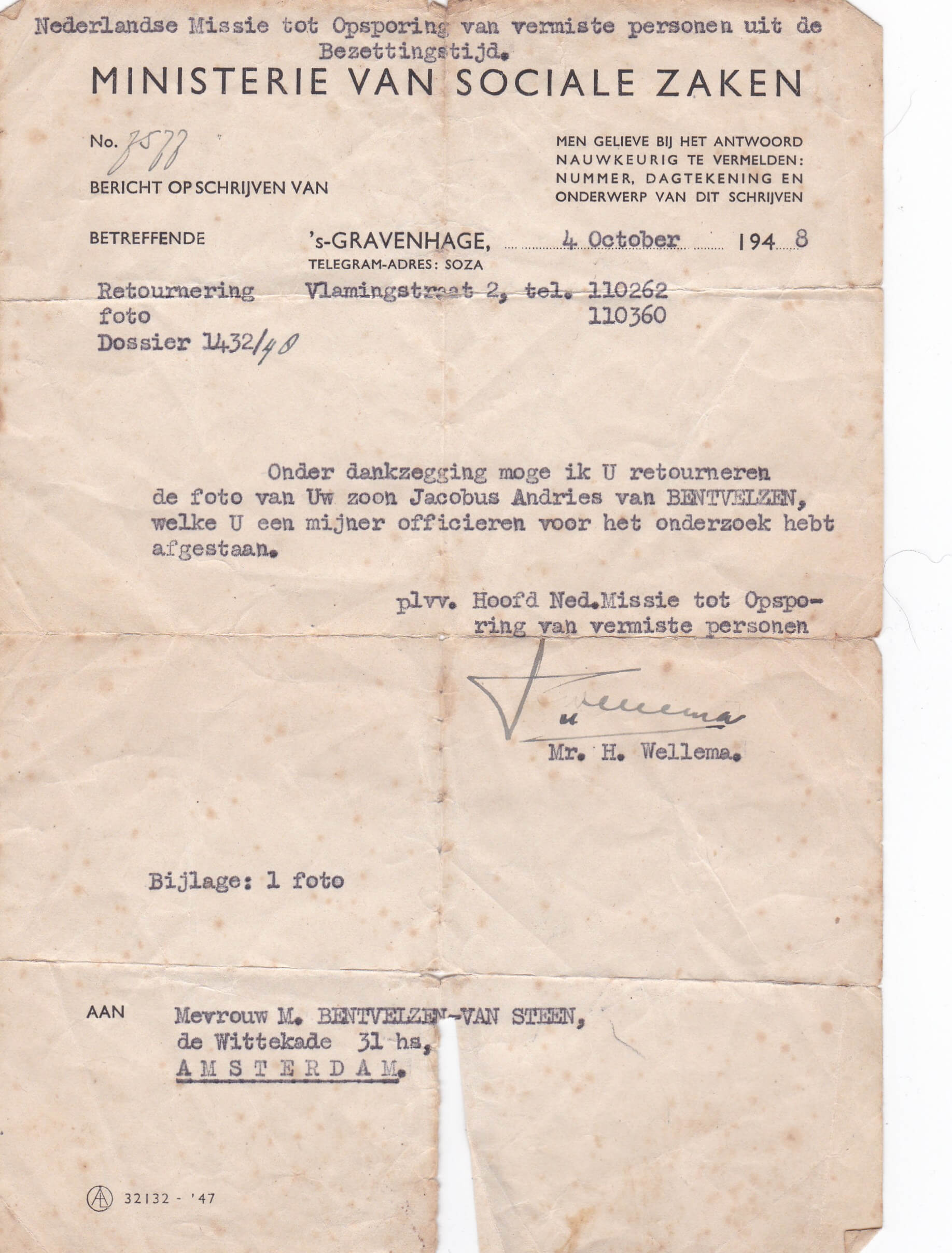 Een brief van net ministerie van sociale zaken. 'Wij retourneren de foto van Jacobus die u ons heeft toegestuurd voor het dossier'. Dit zal vast een behoorlijke impact gehad hebben zo'n brief met de foto van je eigen zoon.
Sorry, U komt niet in aanmerking voor vergoeding
een sprong naar het jaar 1952. Er gaan zomaar 7 jaren van onzekerheid voorbij over het lot van Jacobus. De moeder van Jacobus doet een aanvraag voor oorlogsvergoeding en benaderd de Oorlogsgraven stichting.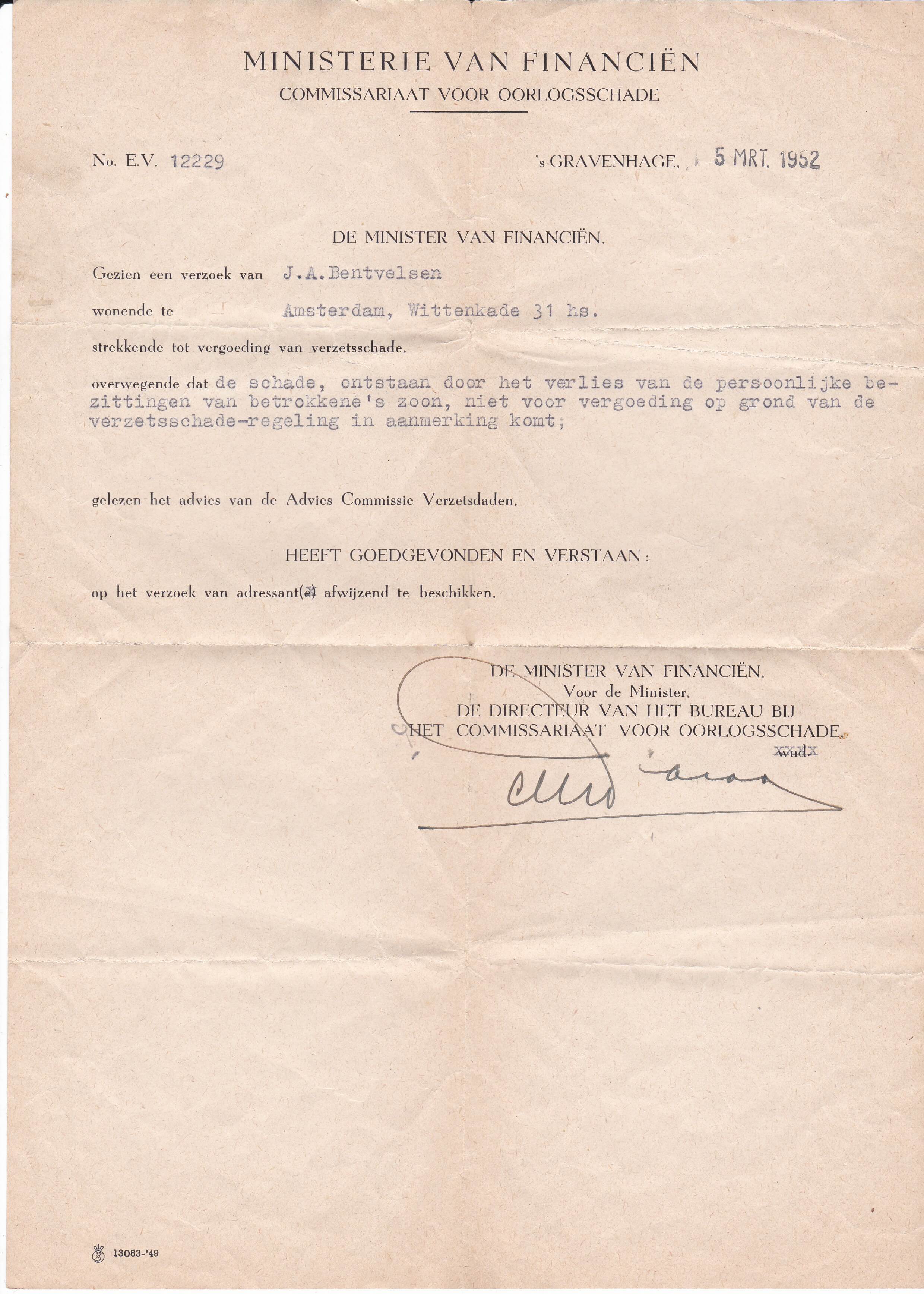 Een teleurstellende brief van het ministerie van financien. 'De schade ontstaan door het verlies van de persoonlijke bezittingen van betrokkene's zoon, niet voor vergoeding op grond van de verzets-schaderegeling in aanmerking komt'. En dat terwijl Jacobus toch heel duidelijk omschreven is opgepakt voor zijn verzetswerk voor de CPN en sabotage in de Fokker fabriek…
Oorlogsgravenstichting 1958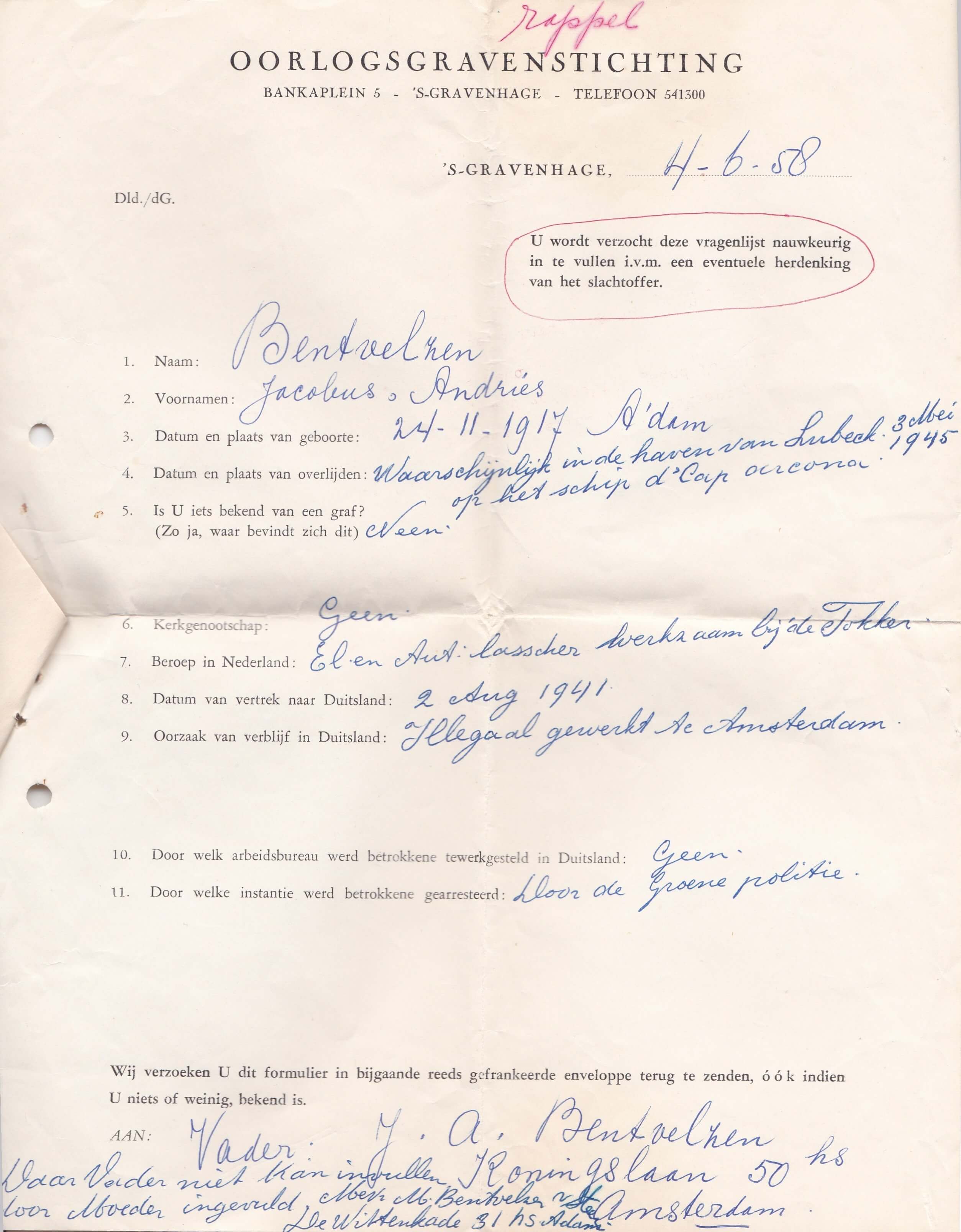 1958. een ingevulde vragenlijst voor de OGS met betrekking tot Jacobus. Er is in de voorgaande jaren blijkbaar meer duidelijkheid gekomen over het lot van Jacobus op de Cap Arcona. Als datum en plaats van overlijden is nu aangegeven; 'waarschijnlijk in de haven van Lubeck op het schip de Cap Arcona, 3 mei 1945. Illegaal gewerkt te Amsterdam. Gearresteerd door de Groene Politie.
1965. Programma voor de inwijding van het van het monument KZ Neuengamme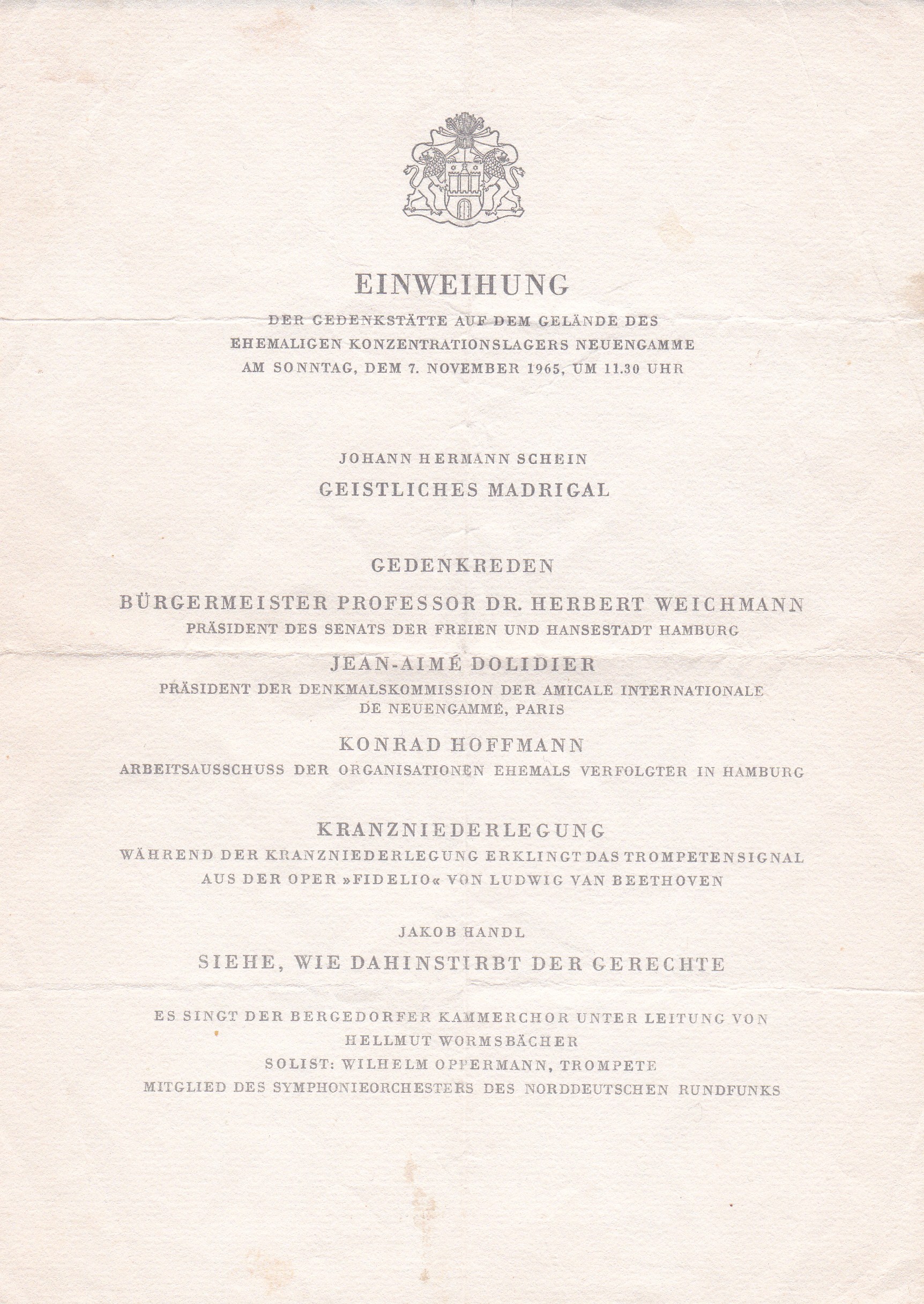 Een bijzonder document. Het programma voor de inwijding ( Einweihung ) voor het monument op het terrein van het voormalige concentratiekamp Neuengamme. Op zondag 7 november 1965. Dit zal een bijzonder beladen moment zijn geweest voor de familie van Jacobus. Op het terrein waar je geliefde zo heeft geleden en het nu na al die jaren met eigen ogen zien. Zijn de vlekjes onderaan het papier de tranen van een strijdbare moeder? Wat we wel weten, is dat deze moeder er werkelijk alles aan heeft gedaan om haar zoon terug te vinden, of in ieder geval er achter te komen wat zijn lot is geweest.
Jaobus is van de cel in Weteringschans naar kamp Schoorl vervoerd. Vanaf daar naar kamp Amersfoort getransporteerd, en vanaf Amersfoort naar KZ Lager Neuengamme op transport gezet. Begin mei 1945 is Jacobus Andries Bentvelzen door de Nazi's naar Lubeck getransporteerd en aan boord van de Cap Arcona vastgehouden. De Cap Arcona is op 3 mei 1945 door geallieerde vliegtuigen, als zijnde Duits troepentransport, aangevallen en gebombardeerd. Velen vonden hierbij de dood. Waaronder Jacobus Andries Bentvelzen. Gevallen voor zijn vaderland. Geliefd, en tot de dag van vandaag, gemist door zijn familie.
Tot stand gekomen door Will en Netty van Ratingen. Familie van 'Co'.
Dit artikel word nog steeds bijgewerkt en aangevuld.
Links:
Digitaal monument KZ Neuengamme
Horloge ter nagedachtenis aan verzetsman Gerard Schuurman
Het verhaal van Leen en Theo van Kuijeren
Stichting Vriendenkring Neuengamme
Erelijst.nl/jacobus-andries–bentvelzen
Weltkriegsopfer.de/Krieg-Opfer-Jacobus-Andries-Bentvelzen