Freistellung Personenkraftwagen Lastkraftwagen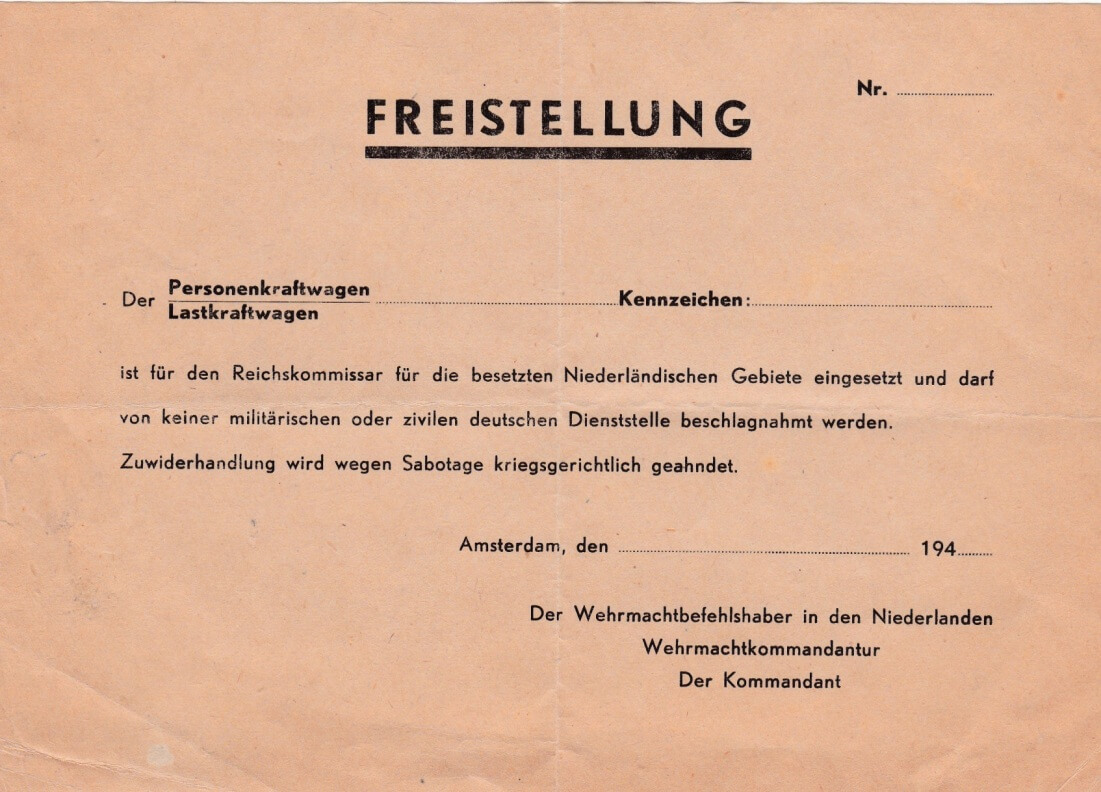 Freistellung Personenkraftwagen Lastkraftwagen uit de tweede wereldoorlog
Vrijstelling voor het gebruik van een personenauto of een vrachtwagen omdat deze in dienst rijdt van de Reichskommissar fur die Niederlandischen Besetzten gebiete. Een handig accessoire voor iedere handelaar, foute Nederlander of verzetsman. Al spant deze ausweis voor de auto wel de kroon, in dienst voor de Reichskommissar….
 Het opschrift op de vrijstelling:
"Freistellung" Der personenkraftwagen / Lastkraftwagen  Kenzeichen; … … …
"Ist fur die Reichskommisar fur die bestzten Niederlandische gebiete eingesetzt und darf von keiner militarischen oder zivilen Deutsche dienststelle beschlagnahmt werden. Zuwiderhandlung wird wegen Sabotage Kriegsgerichtlich geahndet. Amsterdam den ……………………… 194……
Der Wehrmachtsbefehlshaber in den Niederlanden Wehrmachtskommandanteur Der kommandant."
Dit document is door de vinder van de straat geplukt tijdens de bevrijding van Amsterdam in 1945. Samen met een blanco Ausweis en andere documenten.