Geschiedenis van de wo2 verzameling.
Mijn naam is Onno, en op mijn 6e ben ik begonnen met verzamelen, in het begin alleen maar spullen van de landmacht. Ik ging toen met mijn ouders vaak wandelen op de Ginkelduin in Utrecht. Dit is een oefenterein en hier vond ik dan samen met mijn broer losse flodders. Zo is mijn interesse gewekt. Rond mijn 8e begon mijn oma te vertellen over de Tweede Wereldoorlog, en zo ben ik begonnen met verzamelen van spullen uit de oorlog. Hierdoor ben ik ook gaan lezen over de oorlog, en wilde graag spullen hebben waarover ik las. Met mijn ouders bezocht ik rommelmarkten en van mensen uit mijn omgeving kreeg ik ook voorwerpen. Rond 1995, ik was toen een jaar of 13, was ik in Nootdorp bekender geworden, dat mensen mij vroegen om spullen in de etalage van hun winkel te zetten, en spullen op tentoonstellingen te plaatsen, zoals in het gemeentecentrum en twee exposities op school. Tijdens een van deze exposities heb ik ook aan de klassen van de naastgelegen basisschool een aantal malen een lezing gegeven. Hierover is ook een artikel in het plaatselijk weekblad verschenen.
Op mijn 15e ben ik met mijn ouders naar Normandie geweest.Mijn ouders hebben mij hier mee naartoe genomen.Toen ben ik ook naar Point du Hoc geweest. Hier hebben ze alles gelaten zoals het was, niets gerestaureerd, het is dus net als of je 3 maanden na alle gevechten daar rondloopt. Erg indrukwekkend was dat. Je beseft goed wat daar allemaal is gebeurd, en dat dat de reden is dat we dit kunnen en vooral mogen typen… En je beseft vooral dat we dat eigenlijk helemaal niet mogen vergeten. Bekijk de site maar eens op uw gemak.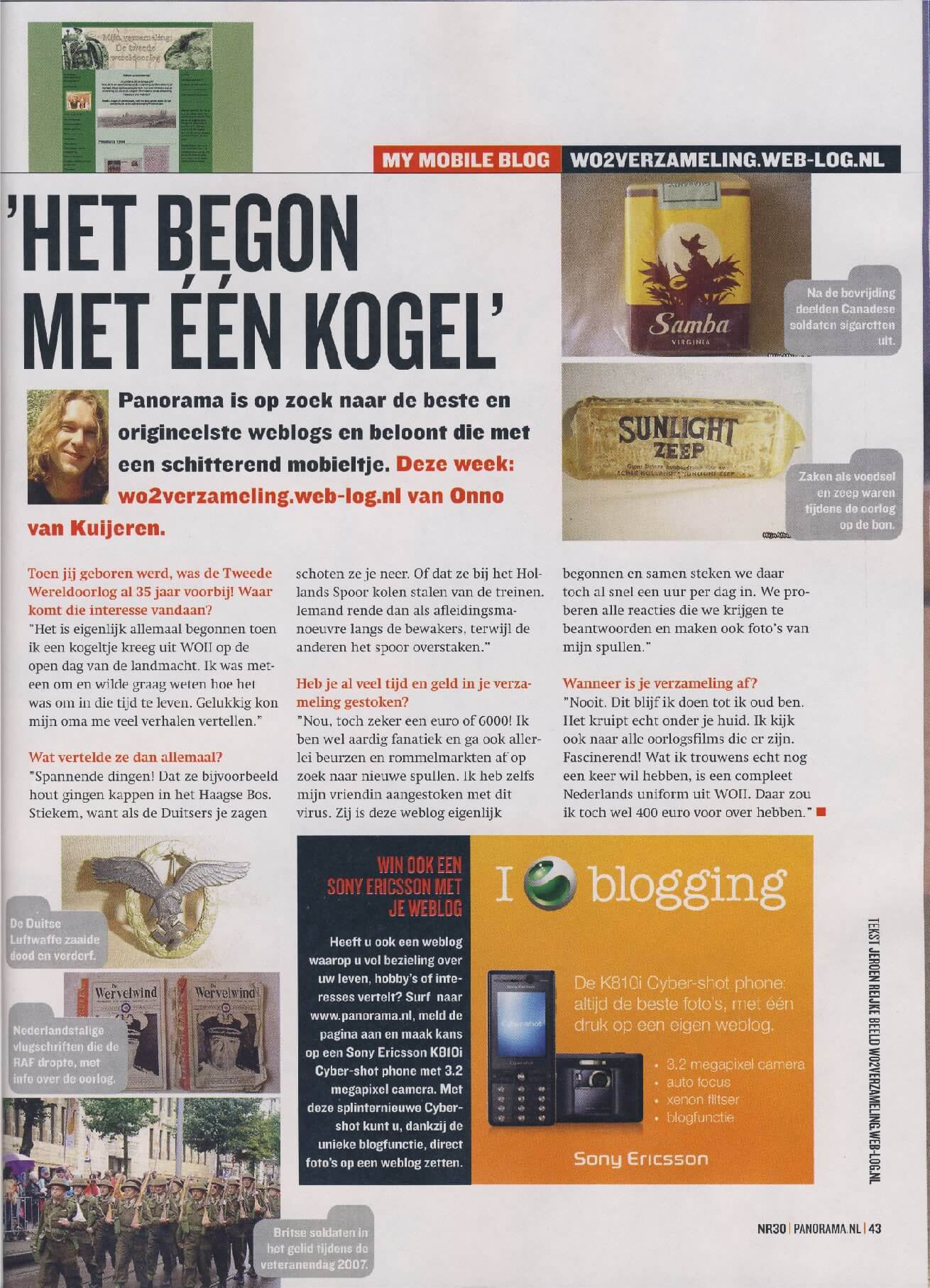 Wo2verzameling in de Panorama. Toen was het nog wo2verzameling.web-log.nl.
Al sinds 2006 is mijn wo2verzameling online te bekijken. Sinds 2013 ben ik begonnen met Wo2verzameling.nl.